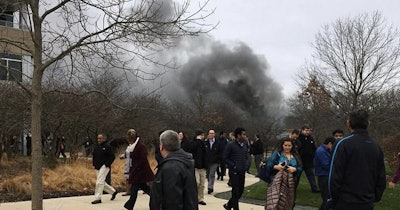 Reports from the Chicago Tribune and Daily Herald say that no one was hurt Wednesday in a fire at W.W. Grainger's headquarters in Lake Forest, IL,
The Tribune said the fire was reported at 12:48 p.m. CT. It started in an air-handling machine in a mechanical room, a Grainger spokesman told the Daily Herald.
The reports said as many as nine fire area departments helped extinguish the fire in about 20 minutes, and employees were allowed back to work after. No injuries reported. The Tribune cited officials saying the blaze resulted in an estimated $20,000 in damage to the facility.
"We arrived and found smoke and fire showing from the west side of the building," shift commander Lt. Jeff Gibson told the Tribune. "They had evacuated the building with the alarm. Then our crew deployed hose lines. We found the fire in a ventilation duct and extinguished it."
The Tribune said Gibson estimates that investigators will take about two weeks to investigate the cause of the fire.
Gibson estimates investigators from the Lincolnshire-Riverwoods will take two or so weeks to investigate the cause of the fire.
Grainger is No. 3 on Industrial Distribution's 2016 Big 50 List.
The Elgin Journal Tweeted this photo from the scene Wednesday afternoon.