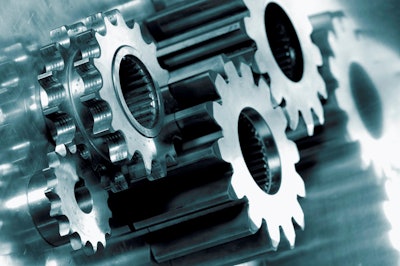 The Institute For Supply Management on Thursday said its Purchasing Managers Index (PMI) gained more than a point from October to November to a reading of 53.2, another sign that the U.S. manufacturing economy is finding steady footing.
The PMI registered at 49.4 in September, indicating contraction, but bounced back to expansion with an October mark of 51.9.
November's PMI matches its highest reading of the year, which it also had in June. It topped Thomson Reuters expected reading of 52.2, and Wall Street Journal economists forecast of 52.5.
The reading comes three days after the Industrial Supply Association's November Economic Indicator Report showed healthy gains in October for its distributor and manufacturer indexes. ISA's distributor index improved 7.8 points in October to a mark of 64.9, while its manufacturer index gained 3.1 points to 68.0 — it's highest reading of 2016.
For both those indexes and the PMI, a reading above 50 indicates expansion, while less than 50 indicates contraction.
The reported growth also comes on the heals of OPEC's agreement Wednesday to cut oil production by 1.2 million barrels per day, which analysts say should boost oil prices, or at least keep them steady for the near future. Earlier this week the Bureau of Economic Analysis also reported that the U.S. real GDP increased at a rate of 3.2 percent in the third quarter, following Q2's 1.4 percent.
Thursday's ISM Report showed that:
The New Orders Index rose 0.9 percentage points to 53 percent
The Production Index increased 1.4 points to 56 percent
The Employment Index decreased 0.6 points to 52.3 percent
Inventories of raw materials increased 1.5 points to 49 percent
The Prices Index had no change at 54.5 percent
In Thursday's ISM report, its New Orders Index rose 0.9 percentage points to 53 percent, the Production Index increased 1.4 points to 56 percent, the Employment 
ISM's report said that of the 18 manufacturing industries, 11 reported growth in November, led by miscellaneous manufacturing and petroleum & coal products.
The PMI hasn't exceeded 53.2 since February of 2015, and has indicated expansion each month starting in March 2016. Here's how the PMI has looked over the last 12 months:
November '16: 53.2
October '16: 51.9
September '16: 51.5
August '16: 49.4
July '16: 52.6
June '16: 53.2
May '16: 51.3
April '16: 50.8
March '16: 51.8
February '16: 49.5
January '16: 48.2
December '15: 48.0