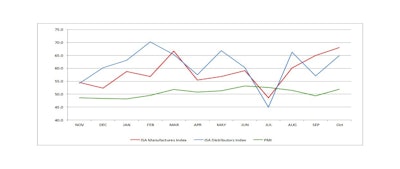 The Industrial Supply Association posted its October Economic Indicator report on Monday, showing strong growth across the industrial manufacturing market. ISA's Distributor and Manufacturer Indexes both improved, coinciding with growth in the Purchasing Managers Index (PMI). This follows September declines in the Distributor Index and PMI.
ISA's Distributor Index improved from a mark of 57.1 in September to 64.9 in October, while the Manufacturer Index grew from 64.9 to 68.0 — it's highest reading of 2016 (March was second at 66.6). The October PMI grew from 49.4 to 51.9, turning back toward expansion.
For all three indexes, a reading above 50 percent indicates expansion, while a reading below 50 percent indicates contraction. All three indexes indicate that industrial manufacturing experienced October expansion, with both distributors and manufacturers expanding faster than in September.
Distributors' largest indicated growth factors were in New Orders (38.9 in September to 63.0 in October), Business Activity (38.9 to 50.0) and Sales Revenue (31.5 to 55.6), while declining factors were Employment (72.2 to 64.8) and Inventories (79.6 to 72.2).