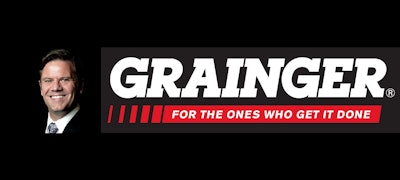 Grainger — No. 3 on Industrial Distribution's Big 50 List — announced Monday that current chief operating officer DG Macpherson will become the company's new CEO effective Oct. 1.
The company said its board of directors has approved current CEO, chairman president Jim Ryan's nomination of Macpherson, who became COO on Aug. 1, 2015. The company states the move is the penultimate step in a multiyear leadership succession process that will conclude with Macpherson taking on the role of chairman upon Ryan's retirement. Grainger said. No COO replacement will be named.
The transition will close Ryan's nearly 36 years of service to Grainger, including the past eight as CEO.
"Jim Ryan, only the fourth CEO in the company's 89-year history, has done an outstanding job leading Grainger through both growing and challenging economic times, as well as during market transitions," said Stu Levenick, Grainger's lead director of the board. "Under Jim's leadership, Grainger transitioned from largely a bricks-and-mortar industrial supplier to a leading-edge digital company with multiple channels to meet the changing needs of businesses and institutions."
Grainger noted a number of company achievements during Ryan's CEO tenure, including:
Sales growth from $5.9 billion in 2008 to $10 billion in 2015
Forming Grainger's e-commerce and inventory management capabilities. The company said more than 50 percent of its 2016 sales are expected to happen via e-commerce, with another 10 percent done through inventory management channels.
Implementation of one of the largest SAP installations and bringing Grainger's North America business to a unified platform.
Foundational investments in IT, supply chain and people to service and future capacity for growth.
Creation of distinct sales and marketing models to serve the unique needs of large, medium and small business in the U.S.
"I've been privileged to work at Grainger for my entire career," Ryan said. "This is a company full of smart, hard-working, committed and service-oriented people. I have always felt a significant sense of responsibility to help Grainger succeed so our teammates and customers can be successful. I've worked with DG for many years, and I'm confident that he is the right person for this job and now is the right time for this transition."
Macpherson joined Grainger in 2008 after working closeley with Grainger for six years as a partner and managing director at Boston Consulting Group, where he was a member of the Industrial Goods Leadership Team. Grainger notes Macpherson helped build the company's strategy, oversaw the company's launch of its Zoro business and helped build the company's supply chain capabilities and realigned its U.S. business.
"Grainger is a company with an extraordinary history and an incredibly bright future, and it is my privilege to guide our 23,000 team members worldwide in support of our purpose of helping professionals keep their operations running and their people safe, while creating a company where dedicated, talented people can thrive," said Macpherson. "I'm humbled to take on this role and am incredibly grateful to Jim and the board for their mentorship and support in preparing me for this responsibility."
Grainger said no other executive changes are planned at this time.