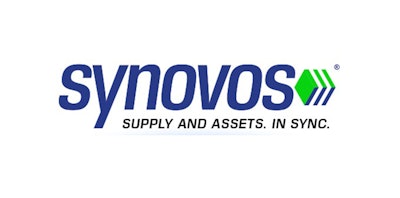 RADNOR, PA — Integrated supplier Storeroom Solutions, Inc. recently announced it has rebranded the company as Synovos, effective immediately. Citing an evolving industry landscape and a history of significant growth, the rebrand enables the Radnor, PA-based company to meet the changing demands of its clients, and the highly competitive global indirect materials and asset services market.
"For nearly 20 years, the name Storeroom Solutions has served us and our clients well," said Carlos Tellez, president and CEO. "The industry continues to evolve, where manufacturing companies, large institutions, medical facilities and others are looking for a full suite of services to deal with MRO, supply management and asset needs. Our new identity positions us to meet those challenges and build trust with our clients, while providing increased value."
The rebranding, Tellez said, positions the company to expand its offerings within asset services, Master Data LeadershipSM, supply chain management, enterprise asset management (EAM/CMMS) technology and other services related to maintenance, repair and operations (MRO).
"Synovos represents the evolution our company has undergone over the last several years in a deliberate effort to provide unprecedented connectivity and visibility between the MRO supply chain, asset management and plant reliability," said Michael Weinberg, chief sales and marketing officer. "This rebranding shines a whole new light on our company from the perspective of a comprehensive service offering that extends far beyond MRO parts, and positions us as a true strategic business partner."
The transition to Synovos is supported by a newly launched website, www.synovos.com, as well as on social media, including LinkedIn, Twitter, Facebook and YouTube.