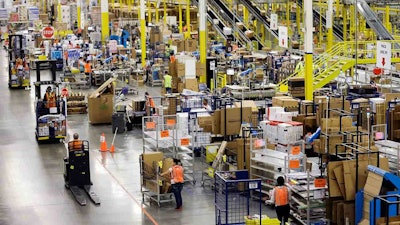 SEATTLE — Amazon.com has announced plans to open its second fulfillment center in Joliet, IL. The company will create more than 2,000 full-time jobs at the facility in addition to the 1,500 full-time employees currently working at its existing Joliet facility.
"We have found an abundance of talent in Joliet and we are excited to bring a new fulfillment center to the city and create 2,000 great full-time jobs with benefits," said Akash Chauhan, Amazon's vice president of North American operations. "This community and the elected officials throughout the city and state have been very supportive of Amazon and we thank them for helping make this possible."
Amazon employees at the new 700,000 square-foot Joliet fulfillment center will pick, pack and ship smaller items to customers like books, toys and electronics.
"By expanding its investments and operations in Illinois, Amazon will employ thousands more hard-working residents to grow our economy," IllinoisGovernor Bruce Rauner said. "Amazon is a global business leader, making significant commitments to Illinois and our workforce. This expansion is a vote of confidence in the state's new way of doing economic development in Illinois with the ILBEDC working alongside the Department of Commerce and Economic Opportunity."
Amazon also announced it is adding new fulfillment centers in Tracy and Eastville, CA, bringing its number of such facilities in the state to nine.