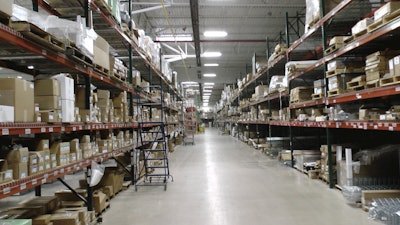 Some three-quarters of warehouse officials expect additional locations, increased shipments and new technology investments over the next five years, according to a new survey.
Zebra Technologies' Warehouse Vision Study polled 1,378 warehouse professionals — in information technology and operations — across 12 countries in October.
The Illinois tracking and labeling firm found that 76 percent of respondents anticipated that increased consumer demand would bolster the number of warehouse locations and the volume of shipments by 2020.
Seventy-five percent, meanwhile, planned to accommodate those changes by transitioning to modern warehouse management systems by 2020. Seventy-six percent expected to invest in real-time inventory tracking systems over that span, while 73 planned to equip warehouse staff with technology.
More than 80 percent of warehouse professions forecasted an increase in inbound shipments that are bar-coded, and 68 percent anticipated adding bar-code scanning capabilities by 2020.
Other top technology investments included tablets — targeted by 66 percent of respondents — and 62 percent that expected to add Internet of Things capabilities.
Zebra officials said that the investments could help shorten delivery times, curb stock shortages and improve fulfillment accuracy as manufacturers and distributors increasingly deliver products directly to customers.
Participants identified labor productivity, order turnaround times and order accuracy as the biggest current issues facing warehouse operations.
"Fulfillment is an integral part of the customer value chain and investment in technology and innovation in this area can go far to improve a customer's experience," Zebra Technologies warehouse director Mark Wheeler said in a statement.