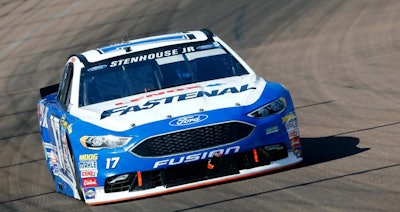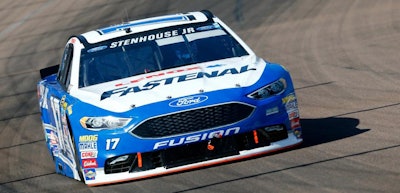 Roush Fenway Racing the No. 17 NASCAR Sprint Cup Series Team and driver Ricky Stenhouse Jr. have announced an extended partnership with Fastenal, increasing the industrial distributor's number of primary races in 2017 and beyond.
"We are really excited to announce that Fastenal will remain the anchor partner of the No. 17 team for years to come," said Stenhouse Jr. "Fastenal is a first-class organization with values that align completely with myself and this race team. We've seen a lot of improvement across the board this year.
"We are very happy that Fastenal will continue to be a part of the momentum at Roush Fenway," Stenhouse added. "There has been a lot of hard work and effort put into this team and our goal and expectation is to reward Fastenal with a trip to victory lane and the Chase in the near future."
Fastenal — No. 12 on Industrial Distribution's 2015 Big 50 List — is currently in its fifth season as a primary partner in Roush Fenway's Sprint Cup stable, and its second full season as the anchor partner on Stenhouse's No. 17 Ford Fusion. Stenhouse enters this weekend's Coca-Cola 600 in 19th place in the Sprint Cup Chase standings, 10 points out of the 16th and final position in the championship series.
"To have a company of the caliber of Fastenal recognize the long-term value of a partnership with Roush Fenway, Ricky and the No. 17 team is gratifying for our entire organization," said Roush Fenway president Steve Newmark. "During our relationship, Fastenal has created and implemented a robust and impactful motorsports marketing program, and we are thrilled to have Fastenal continue to be a key part of the Roush Fenway family now and in the future."
Fastenal first joined Roush Fenway as a primary sponsor in 2010 in the NASCAR XFINITY Series, of which Stenhouse Jr. is a two-time champion (2011, 2012). He was the 2013 Sprint Cup Rookie of the Year.
"We are truly looking forward to continuing our partnership with Roush Fenway Racing as the anchor sponsor of the No. 17," said Fastenal President and CEO Dan Florness. "Ricky has done an excellent job representing our brand — both on and off the track — and we are extremely proud of the relationship we have built with Ricky, Jack Roush and everyone at Roush Fenway Racing.
"Extending our partnership reflects our belief in Roush Fenway Racing," Florness added. "The NASCAR program has helped us grow our business and excite our employees, and we feel a strong connection with the NASCAR community and fan base."