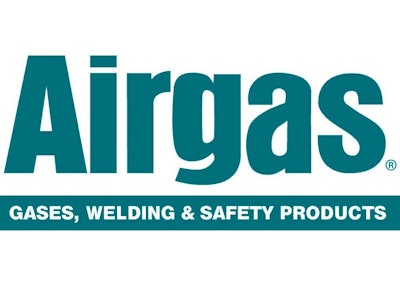 ​Airgas, No. 8 on Industrial Distribution's 2014 Big 50 List, reported its 2015 fourth quarter and full-year financial earnings for the period ended March 31.
For the quarter, the company had sales of $1.3 billion, a 3 percent year-over-year increase. Organic sales were up 2 percent, with gas and rent up 2 percent and hardgoods up 2 percent. Distribution segment organic sales in the quarter were up 1 percent, with gas and rent flat and hardgoods up 2 percent. Acquisitions contributed sales growth of 1 percent in the quarter on a consolidated basis and in the Distribution segment.
Profit dipped slightly, from $88.4 million a year earlier to $87.7 in Q4 2015.
"During the quarter, we experienced greater than anticipated declines in year-over-year sales growth rates in our Energy & Chemicals and Manufacturing customer segments, reflecting the impact of the significant and rapid decline in oil prices and the impact of the strong dollar on manufacturers that export, as well as challenging weather conditions throughout much of the country," said Airgas President and CEO Michael Molinini As we announced on March 20, we expected these sales challenges to slow year-over-year organic growth for our fourth quarter to a range of 1 to 2 percent."
Selling, distribution, and administrative expenses increased 4 percent YOY, with operating costs associated with acquired businesses representing approximately 1 percent of the increase. Airgas said the increased expenses reflect with the company's investments in long-term strategic growth initiatives, including its e-Business platform and continued expansion of its telesales business through Airgas Total Access.
For the full year 2015, sales were $5.3 billion, a 5 percent increase over 2014. Organic sales increased 3 percent, with gas and rent up 3 percent and hardgoods up 4 percent, while acquisitions contributed sales growth of 2 percent for the year.
During fiscal year 2015, the Company acquired 14 businesses with aggregate annual sales of approximately $55 million.
"Like many others, we had expected the U.S. industrial economy to be much stronger by now," said Airgas Chairman Peter McCausland. "We are seeing an economy that is clearly weaker than it was in the December quarter, and the level of uncertainty in the marketplace makes it difficult for us to predict our near-term sales outlook. While we are encouraged by some bright spots, such as the increased activity of many of our construction customers, the overall sluggishness in the industrial economy tempers our near-term optimism."