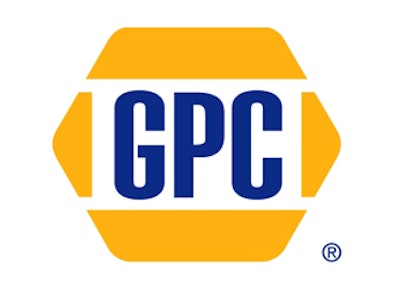 Atlanta, GA - Genuine Parts Company reported fourth quarter results and record sales and earnings for the year ended December 31, 2013.
Tom Gallagher, Chairman and Chief Executive Officer, announced today that sales in 2013 were $14.1 billion, up 8% compared to 2012. Net income for the year was $685 million, an increase of 6% compared to $648 million in 2012. Earnings per share on a diluted basis were $4.40, up 6% compared to $4.14 in 2012.
Included in the company's full year 2013 results are the previously recognized one-time positive purchase accounting adjustments of $33 million, or $0.21 net of taxes on a per share diluted basis. These adjustments are associated with the April 1, 2013 acquisition of GPC Asia Pacific, formerly Exego.
Additionally, the company's pension plan was amended to freeze future benefit accruals for all participants as of December 31, 2013.  In connection with this amendment, effective in December 2012, the company recorded a one-time noncash curtailment gain of $23.5 million, or $0.10 and $0.09 net of taxes on a per share diluted basis for the fourth quarter and full year 2012, respectively.
Mr. Gallagher stated, "We are pleased to report that 2013 was another year of record sales and earnings for Genuine Parts Company. Our overall results reflect the good job that was done by the GPC Team in 2013, despite the challenging market conditions that were experienced by our non-automotive business segments. We further strengthened our financial condition with increased net income and a continued emphasis on effectively managing the balance sheet. Our progress in these areas produced record cash flows for us in 2013, with cash from operations at $1.1 billion and free cash flow of approximately $600 million."
Mr. Gallagher added, "The Company's revenue growth in 2013 was driven by an 18.5% Automotive sales increase, offset by a combined 1% sales decrease for our non-automotive businesses. Acquisitions for the Automotive Group drove the high-teen revenue growth, while our underlying sales were up approximately 4% for the year.  Our strongest sales results came from our commercial business and, in particular, solid results in NAPA AutoCare and Major Accounts, our two primary commercial initiatives. Sales at Motion Industries, our Industrial Group, were down slightly for the year, our Electrical/Electronic Group was down 2% and our Office Group sales were down 3% in 2013. Weak demand patterns challenged these three industries throughout the year."
Fourth Quarter 2013
Sales increased 13% to $3.5 billion in the fourth quarter ended December 31, 2013, compared to sales of $3.1 billion for the same period in 2012.  Net income in the fourth quarter was $150 million, or $0.97 per share on a diluted basis, compared to $160 million, or $1.03 per diluted share, in 2012. The 2012 results include the $23.5 million one-time pension gain, or $0.10 per diluted share, previously disclosed. Excluding the gain, diluted earnings per share in the fourth quarter of 2013 were up 4% from 2012.
In reviewing the quarter, Mr. Gallagher commented, "Revenue growth in the fourth quarter proved to be the strongest of the year, with acquisitions contributing 10% to our sales growth and our underlying sales were up 4%, which was offset by a 1% currency headwind. Automotive sales were up 25% in the quarter, including 7% underlying growth, offset by a 1% negative translation effect. Industrial Group sales were up 3% and sales for the Electrical/Electronic Group increased by 6%, which includes a 10% contribution from acquisitions. Sales for the Office business were down 4%."
Mr. Gallagher concluded, "We faced a number of challenges in each of our four business segments in 2013 and, as previously stated, our Automotive business fared the best with their 18.5% sales increase. In all four businesses, key decisions were made and actions taken that position each segment for solid performances in the year ahead, and we look forward to reporting on our progress. We remain committed to our core objectives of growing sales and earnings, showing continued operating margin improvement, generating solid cash flows and maintaining a strong balance sheet. Further progress in each of these areas will keep the Company moving ahead and help to ensure another successful year in 2014."
---
Genuine Parts Company Marks 58th Consecutive Year Of Increased Dividends; Announces Officer Changes
Atlanta, GA - Genuine Parts Company announced a 7% increase in the regular quarterly cash dividend for 2014. The Board of Directors of the Company, at its February 17, 2014 Board meeting, increased the cash dividend payable to an annual rate of $2.30 per share compared with the previous dividend of $2.15 per share. The quarterly cash dividend of fifty-seven and one-half cents ($.575) per share is payable April 1, 2014 to shareholders of record March 7, 2014.  GPC has paid a cash dividend every year since going public in 1948, and 2014 marks the 58th consecutive year of increased dividends paid to shareholders.
Genuine Parts Company also announced today that Bruce Clayton has informed management of his plan to retire as Senior Vice President of Human Resources for the Company, effective April 1, 2014. Accordingly, the Board of Directors elected James R. Neill to replace Mr. Clayton as Senior Vice President of Human Resources upon his retirement. Currently, Mr. Neill serves as Senior Vice President of Employee Development and HR Services for the Company. Tom Gallagher, Chairman and CEO of Genuine Parts Company, commented, "We want to thank Bruce Clayton for the tremendous leadership he has provided us during his 18 years of service to the Company. Bruce has been extremely valuable to our management team and we wish him the very best for the future."
Mr. Gallagher added, "We also want to welcome Jim Neill to this important role. Before joining the GPC Corporate Human Resources organization last year, Jim served in a variety of human resources  roles over his long and distinguished career. This includes seven  years at Motion Industries, our industrial distribution company, most recently as the Senior Vice President of Human Resources. Jim is the right person for this position and we look forward to his many future contributions."