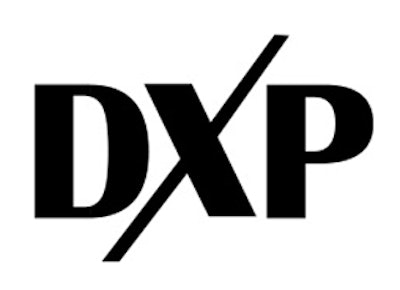 Houston, TX - DXP Enterprises, Inc. announced that for the fourth quarter ended December 31, 2013 it earned net income of $16.9 million, or $1.10 per fully diluted share. Sequentially, fully diluted earnings per share improved 2.8% from $1.07 per fully diluted share, or $16.4 million in net income for the third quarter ended September 30, 2013. Compared to fourth quarter 2012 earnings of $14.1 million or $0.92 per fully diluted share, fourth quarter 2013 fully diluted earnings per share improved 19.5%.
For the year ended December 31, 2013, DXP reported net income of $60.2 million, with fully diluted EPS of $3.94 compared to year end December 31, 2012 net income of $51.0 million, with EPS of $3.35, for an improvement of $9.3 million in net income or 17.6% per fully diluted share.
Sales for the fourth quarter of 2013 increased $20.7 million, or 7.08% to approximately $313.8 million from $293.0 million for the same period in 2012.
For the year ended December 31, 2013, DXP reported a sales increase of $144.4 million, or 13.2% to approximately $1,241.5 million from $1,097.1 million for 2012.
David R. Little, Chairman and Chief Executive Officer remarked, "We achieved strong results in 2013. Achieving sales growth of 13.2% to $1.24 billion with EBITDA margins of 9.9% and 2013 diluted earnings per share growth of 17.6% to $3.94. I would like to thank our 'DXPeople,' as they battled for market share and fought hard for the financial results earned this year. The execution of our strategy relied heavily on inorganic growth, year-over-year gross margin expansion and efficient working capital management which led to strong cash flow performance.
Innovative Pumping Solutions lead the way with 29.6% sales growth followed by DXP's Service Centers, which grew at 13.5%. DXP's Supply Chain Services revenues declined by 5.6%, however, SCS improved operating margins by 50 basis points. Operating margins for Innovative Pumping Solutions, DXP Services Centers and Supply Chain Services were 16.1%, 12.1% and 8.5%, respectively. With acquisitions fueling a majority of our growth, DXP's ability to gain operating leverage was dampened with EBITDA margins staying flat from 2012 at 9.9%. As we mentioned at the beginning of 2012, and we will continue to reiterate, we still feel there is room for additional margin improvement as we continue to find ways to instill pricing discipline and ensure our cost structure is aligned appropriately. We completed four strategic acquisitions in 2013, including the purchase of National Process Equipment, Inc. and Alaska Pump which helped grow our Rotating Equipment division. As well as, Tucker Tool and Tool-Tech which helped grow our Metal Working division. Total employees increased from approximately 2,817 to 3,207.
As we enter 2014, we are optimistic that the economy will improve. However, whether we continue in a see-saw environment or not, DXP will continue to grow sales organically, invest in the business, make strategic acquisitions and focus on creating efficiency. As such, for fiscal 2014, we will focus on rebalancing our resources for growth and reasserting the operating leverage that is inherent in our business. We are excited to be entering the year with strong financial resources, an experienced group of expert employees, growth strategies and optimism on the acquisition front; all of which should allow us to continue our history of double digit revenue growth and outperformance in 2014."
Mac McConnell, Chief Financial Officer added, "Our annual financial results reflect year-over-year sales growth driven by acquisitions and improving profitability during the second half of the year. We grew sales by 13.2% over 2012 and achieved over 10% EBITDA margins during the second half of the year. DXP generated over $74 million in free cash flow, which was primarily used to fund acquisitions. Subsequent to the quarter end, we completed the purchase of B27, LLC. Using debt outstanding at the end of February, 2014, including the pro forma effect of the acquisition, DXP has total debt to EBITDA of approximately 2.93:1."