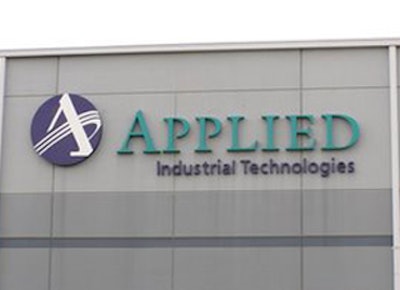 CLEVELAND, OHIO (October 29, 2014) – Applied Industrial Technologies (NYSE: AIT) today reported first quarter fiscal 2015 sales and earnings for the three months ended September 30, 2014.
Net sales for the quarter grew 16% to $702.3 million from $605.3 million in the same quarter a year ago. Net income for the quarter increased to $29.1 million from $26.8 million, and earnings per share rose 10.5% to $0.70 per share, compared with $0.63 per share in the first quarter of fiscal 2014.
Commenting on the results, Applied's President & Chief Executive Officer Neil A. Schrimsher said, "We are pleased to report a solid start to the fiscal year with double-digit sales and earnings per share growth for the quarter. Our overall sales increase reflects a 13.3% lift from our recent acquisitions and a 3.2% contribution from core underlying operations, offset by a negative foreign currency translation impact of 0.5%. "We enter our second quarter with positive momentum, and we are well-positioned for continued improvements in sales, operations and earnings. All across Applied, we are focused on expanding our value-add, extending our market reach, and enhancing our capabilities to serve our customers.
"Looking ahead, we see an industrial market that offers continued opportunities for growth, and we are maintaining our full fiscal 2015 guidance for earnings per share between $2.95 and $3.20 per share, on a sales increase of 13% - 16%."
In other company news, the Board of Directors has elected Peter C. Wallace as its independent Chairman. He succeeds John F. Meier, who has served as Chairman since 2011 and who will continue to serve as a member of the Board. Mr. Wallace, age 60, has served on the Applied Board since 2005. He is Chief Executive Officer of Gardner Denver, Inc., a privately owned global manufacturer of engineered compressors, pumps, blowers, and fluid management solutions for critical applications in industrial, energy, medical, chemical and other demanding industries.