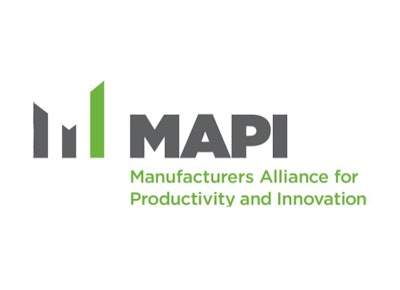 The Manufacturers Alliance for Productivity and Innovation reduced its economic projections for 2015 in light of low oil prices and a strong dollar.
The MAPI Foundation's latest quarterly report anticipated 2.4 percent growth in the national GDP for all of 2015; the previous quarterly forecast expected 3 percent growth.
The projection for the manufacturing sector, meanwhile, declined from the previous estimate of 3.7 percent growth to 2.5 percent — just barely ahead of overall growth.
MAPI chief economist Dan Meckstroth said the collapse in oil prices since mid-2014 helped net oil importers such as the U.S., but the price slide resulted in a rapid contraction of the energy supply chain.
The dollar, meanwhile, is "becoming more and more of a gold standard" due to economic weakness in Europe and China, which led to falling import prices and a trade deficit "that's going to get worse."
Meckstroth added that U.S. producers are cutting prices in an effort to offset currency differences. As a result of that deflationary pressure, he said economists now expect the Federal Reserve to delay an increase in interest rates.
"We were looking for a June timing of the first Fed move to increase interest rates," Meckstroth said. "Now, it looks more likely to be December."
In addition, the MAPI analysis showed only "moderate" growth in consumer spending in the first quarter as Americans adjusted to low gas prices and coped with a particularly harsh winter. Inventories, meanwhile, rose sharply and raised the prospects of slower output in the second quarter.
Winter weather also tempered manufacturing in the first quarter, but the analysis also attributed slower industrial growth in those three months to the oil supply chain and the strong dollar.
Meckstroth said job gains fueled moderate economic growth in the U.S. in recent months and warned that without employment increases, "We would be like Europe."