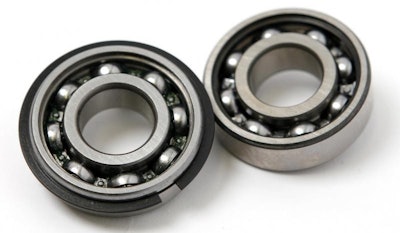 Counterfeiting is a major issue that affects many manufacturers and distributors across the globe. Counterfeit goods are usually made from lower quality components, with the purpose of selling a cheap imitation of goods produced by well-known brands.
According to the International AntiCounterfeiting Coalition (IACC), the Department of Homeland Security (DHS) seized counterfeit goods valued at more than $1.7 billion at U.S. borders in 2013 alone. Unfortunately for manufacturers and distributors, these statistics are not improving.
"If your readers buy counterfeit bearings, they're getting cheated; they're not getting what they paid for," says Timothy Gifford, SKF General Counsel Sr. Vice President.
SKF, a global engineering company known for manufacturing ball and roller bearings, estimates that the global rolling bearing market size in 2014 reached almost $40 billion. However, as the bearing market increases, so do the number of counterfeit bearing operations.
DHS states that the country of origin with the highest manufacturer's suggested retail price (MSRP) value of counterfeit goods is the People's Republic of China, accounting for over 90% of MSRP for counterfeits in 2013 and 2014.
"I've been involved for eight years with counterfeits, and I can tell you [the majority] of counterfeit bearings are manufactured in China," remarks Gifford.
Gifford believes counterfeiting is rapidly increasing due to the globalization of companies and markets; advancements in technology uniting the world; and increased manufacturing in third world countries. The International Chamber of Commerce estimates that annual global sales are expected to rise to $1.7 trillion by the end of 2015.
"Counterfeiting is a major global problem," explains Gifford. "Could you imagine if a counterfeit bearing fails on a windmill and that windmill falls off? That could be very devastating."
Infiltrating the U.S.
Counterfeits infiltrate the U.S. through a variety of channels, whether it be by rail, sea, or plane. Despite the alarmingly high number of counterfeiting operations overseas, manufacturers in the U.S. can somewhat rely on DHS monitoring efforts through its Customs and Border Protection (CBP) and Immigration and Customs Enforcement (ICE) agencies.
The agencies made 23,140 seizures of counterfeit goods in 2014, having a total MSRP of about $1.2 billion.
Even SKF has seen counterfeit bearings posing as their own. "[Counterfeit bearings] kill our reputation," laments Gifford.
In 2013, CBP made 57 seizures containing counterfeit SKF-branded bearings. Of those seizures, SKF was able to attribute an estimated MSRP value for 30 of them, totaling over $2.3 million. China was identified by CBP as the main source of export for the seizures.
Due to the high number of seizures, SKF has found itself involved in costly, time-consuming litigation, and with increased overhead costs. "We now have a team of 12 who dedicate their time to global brand protection," explains Gifford.
Combating the Issue
Even though SKF is working hard to find and report counterfeit SKF bearings, the company is still paying the price in litigation fees. One example currently in litigation involves a counterfeit SKF ball bearing that was installed in a residential pool pump.
The counterfeit bearing failed, causing a fire, and the homeowner sued the pump installer, the MRC authorized distributor, and the third party distributor who sold the bearing to the MRC authorized distributor. SKF was then brought into the case by its distributor.
Once the bearing was inspected, it was found to be counterfeit, and the MRC authorized distributor finally admitted that it had purchased the counterfeit bearing from an unauthorized third party distributor.
SKF immediately terminated the distributor agreement; however, to date the case still cost the company almost $100,000. "To avoid counterfeiting, always buy from an authorized SKF distributor," stresses Gifford.
Counterfeit bearings are rarely manufactured with the same strict quality control measures that SKF and other bearing manufacturers adhere to. Additionally, they are often manufactured in poor quality conditions with low-grade materials, and put together by unqualified workers.
What Can You Do?
SKF participates in its parent company's (Aktiebolaget SKF) Group Brand Protection initiative, which offers resources to help consumers verify the authenticity of an SKF product. SKF has also implemented a Group Brand Protection division of its own to identify and remove fake bearings from the market.
To further fight counterfeiting, the company works regularly with the National Cyber Forensics & Training Alliance (NCFTA) to raise awareness and provide training in the industry.
Customers can take advantage of the SKF Authenticate app, which provides instruction on how to photograph the product and automatically submit a request to see if their product is the real deal. SKF experts will review the information, verify whether the product is genuine, and advise the customer.
Above all else, "Always buy from an authorized SKF distributor," reiterates Gifford. "Counterfeits cost SKF, and if they cost SKF, they eventually cost [our customers]."