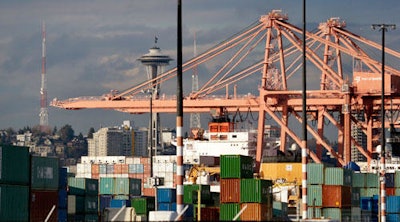 Ships and cranes at West Coast ports sat idle over the weekend, as the Pacific Maritime Association suspended vessel unloading at all West Coast 29 ports in response to union slowdowns that brought freight movements to a near standstill.
Terminal yard, rail, and gate operations at the ports, which handle nearly half of U.S. maritime trade and more than 70 percent of Asian imports, continued Saturday and Sunday.
Vessel loading and unloading operations were scheduled to resume Monday, though yard operations are set to continue at terminal operators' discretion, according to a PMA statement.
PMA members said they cannot afford to play International Longshore and Warehouse Union workers the almost $1,200 per day to do little work.
"After three months of union slowdowns, it makes no sense to pay extra for less work," PMA spokesman Wade Gates said Friday.
The statement came two days after PMA CEO James McKenna issued a statement of the association's "All-In" offer to the union, and said a complete port shutdown was only 5-10 days away at the time.
The PMA said the weekend shutdown was to clear backlogged containers out of yards so that vessel unloading could be resumed. But the ILWU disputes that reasoning, saying there was plenty of space at most terminals to support vessel unloading.
The PMA has repeatedly accused the ILWU of organizing slowdowns to gain negotiation leverage in labor contract negotiations that have been ongoing for nearly nine months. The union stands by its denial of slowdown accusations and puts the blame on the PMA.
"Closing down the ports over the weekend is a crazy way to do business because it's hurting customers and adding to the already serious congestion crisis that the industry has created," union spokesman Craig Merrilees said Friday. "We can't afford to be distracted by gimmicks and games."
Union president Robert McEllrath said in a statement, "Employers are deliberately worsening the existing congestion crisis to gain the upper hand at the bargaining table."
The National Retail Federation has warned that a full-blown port shutdown could cost the U.S. economy $2 billion per day.