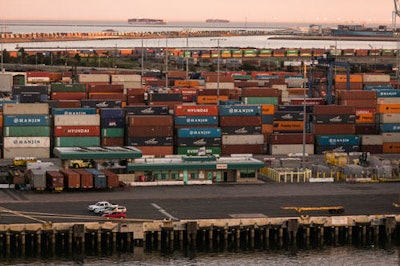 The labor strife at the West Coast Ports has reached a critical level.
In a video statement and press release issued Wednesday, Pacific Maritime Association CEO James McKenna outlined an "all-in" offer the PMA has made to the to the International Longshore and Warehouse Union, and gave a dire warning that if no agreement is made between the two parties, a complete port shutdown could be just 5 days away.
"Given the generous offer, the continuing work slowdown by the ILWU and an earnest attempt over the past 9 months to bargain well beyond our comfort zone, the PMA has concluded that the latest offer is as far as we can go at this point," McKenna said.
According to the release, ILWU workers currently make an average of $147,000 per year, and the 3 percent increase would significantly bring up their wages. The new deal would bring up union pensions to $88,800 per year as a part of a five-year contract.
The release also states that the contract would also add changes to their Cadillac health benefits, a key demand from the ILWU.
The Associated Press said the ILWU countered the PMA's $147,000 salary estimate, with Union spokesman Craig Merrilees calling it innacurrate because while some workers earn that much, the true average is less than $100,000, in part because many longshoremen don't work full-time, and when they do, pay ranges from $26 to $36 per hour.
McKenna said Wednesday that without a contract, a shutdown would be just a week or two away. Estimates from the National Retail Foundation say work stoppage could drain $2 billion a day from the U.S. economy.
"Now, the PMA must decide how much longer we are going to pay longshore workers to work slowly," McKenna said. "These slowdowns are having the same result as a worker strike, except that workers are still getting a paycheck.
"The slowdowns need to stop. The terminals cannot withstand anymore. We are truly close to gridlock."
McKenna estimated that West Coast ports were operating an average of 50 percent slower than normal. Nearly 50 ships are anchored at West Coast ports waiting to be unloaded, he said.
Last week, the two sides reached a tentative agreement on a key sticking point, resolving questions over the allocation of truck chassis at 29 ports. But a handful of issues remain as of Wednesday evening in negotiations that have been ongoing since last May. McKenna said there are six issues remaining: wages, pensions, terminal contracts, the arbritation process, and how dock disputes are to be disputes.
Despite the differences, the union is optimistic an agreement will be reached before a shutdown.
"We've dropped almost all of our remaining issues to help get this settled — and the few issues that remain can be easily resolved," union President Robert McEllrath said in a written statement.
McEllrath said a worker lockout would be "reckless and irresponsible."
The sides were reportedly back at the negotiation table Thursday.