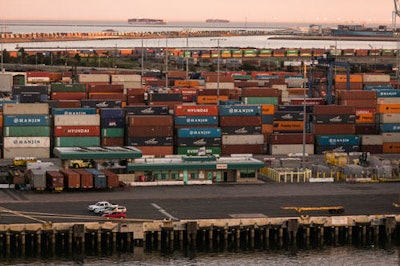 Dockworkers and port officials on the West Coast have reportedly reached a tentative agreement on a key sticking point in their negotiations over a new labor contract.

Resolving questions over the allocation of truck chassis at 29 ports would signal progress toward ending the contract deadlock, and subsequent cargo backlog, at some of the nation's largest and most important shipping facilities.

About 20,000 members of the International Longshore and Warehouse Union have been working without a contract since last summer, and the union and the Pacific Maritime Association — which represents shipping and terminal operators at those ports — have traded allegations over slowdowns at key locations, including the massive Los Angeles and Long Beach docks.

The slowdown has already caused interruptions in trade and millions in lost productivity, with business groups urging the parties to resolve their dispute for weeks. Rail companies have also seen an impact on their intermodal cargo transit, and suggested they could end trips to those ports altogether should the backlog worsen further.

Union officials had, in part, blamed the lack of sufficient chassis for the backlog in moving cargo through the ports. Pacific Maritime Association officials said they hope the chassis agreement "will allow us to move toward conclusion of a full agreement in the near term," three weeks after a federal mediator joined the talks.

Even if an agreement is close at hand, however, analysts warn the gridlock at the ports will take months to be resolved completely.