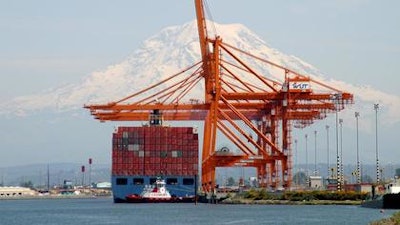 Dockworkers and port operators on the West Coast last week approved a new five-year contract, which brought an official end to the labor strife that stifled cargo at some of the nation's largest ports earlier this year.
"The negotiations for this contract were some of the longest and most difficult in our recent history," International Longshore and Warehouse Union International President Robert McEllrath said in a statement following the vote, which saw 82 percent of union members approve the contract.
The ILWU and the Pacific Maritime Association reached a tentative deal in February after months of increasingly bitter negotiations.
Dockworkers began working without a contract at 29 Pacific ports after the expiration of the previous deal in July 2014. Later in the year, union officials and port operators began trading accusations over deliberate slowdowns of cargo processing.
Ultimately, ports experienced temporary shutdowns and talks were brokered by the U.S. Secretary of Labor before both sides struck an agreement. Dockworkers continue to work on the backlog from the near-gridlock conditions that lingered for weeks at the ports.
"The disruptions that occurred during negotiations, and the inconvenience and hardship created by them, were regrettable," PMA President Jim McKenna said after his group approved the contract. "We look forward to building upon the incredible advantages West Coast ports offer and winning back the trust and confidence of the shipping community."
The National Retail Federation also praised the agreement, but stressed that the difficulties of the past year are "something we will no longer tolerate."
The group said that labor and management on both coasts need to develop a new process for talks, and that negotiations on forthcoming contracts should begin well in advance of the current deal's expiration date.
"The current process is impractical and unsustainable and fails to meet even the most basic requirements of a modern, global supply chain," said Jonathan Gold, NRF vice president of supply chain and customs policy.