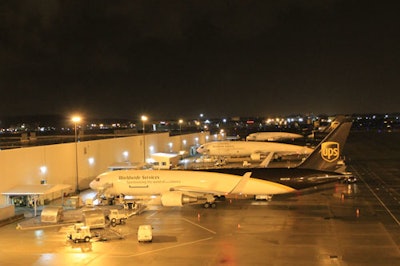 Recently, I made my way down South to visit the largest fully automated package handling facility in the world. Aptly named "Worldport," the UPS facility in Louisville, Kentucky, boasts a 5.2-million-square-foot space and an operations routine that is as impressive as it effective.
Worldport is the centerpiece of UPS's global logistics, which means UPS is able to provide service to customers in 220 countries and territories in hours. In fact, UPS chose Louisville because it is within a two-hour flight of 75 percent of the U.S. population and a four-hour flight of 95 percent of the population. And, since Worldport's opening, a whopping 156 companies, including Zappos, Best Buy and Best Buy's Geek Squad subsidiary, have decided to locate to Louisville to be near Worldport — these companies represent around 12,000 jobs.
See Abbey's Photo Essay of her visit here
On the evening of my visit, the air was thick with humidity, and there was a nasty rainstorm that refused to pass. At first glance, skewed further by the foggy windows and bright lighting I failed to really comprehend the scale of what lay before me. It was only upon entering the heart of the facility that I recognized and appreciated the enormity of the space.
If the square footage doesn't quite sink in, consider the following facts. There are 155 miles of conveyors in Worldport's hub. The overnight shipping and sorting facility accepts, sorts and reloads at a rate of 416,000 packages per hour. Yes, per hour. What's more, about 130 aircraft and 1.6 million packages travel through Worldport every day. To say that the day-to day operations at UPS's Worldport is a modern automation marvel is putting it lightly.
Because Worldport undergoes most of its operations at night, I found myself at the facility around 1 A.M., camera bag and notepad clutched tightly in hand. However, I quickly discarded my pen in favor of my camera as I became more and more preoccupied with eyeing the inner workings of the enormous warehouse.
Employees buzz in and out of the noisy hub while busily attending to any number of duties assigned to them in a given evening. Much of the onsite workforce actually consists of students sporting their college swag; I later learned that UPS offers a tuition-assistance program and $10 per hour to students who work the graveyard shift. But, what first struck me, aside from the consistent metallic hum, was the constant movement all around me.
As my guides and I ascended higher to gain more advantageous views, this feeling only grew. Conveyor belts were above and below me, which (coupled with the height) had an almost dizzying effect. Triply jarring was the additional movement of the packages traveling across all ends of the facility, each dutifully following the perfectly synchronized automation process directing them to their final destinations. Also noticeable was the vivid red light that seemed to shimmer off the walls. This red sheen was actually an overhead camera that automatically scans each package to help track each and every parcel.
Slowly, as I snaked my way through the many levels of winding stairs and intersecting paths, I began to better absorb the hectic yet managed pace at which the employees and machines worked. The automation and human element seemed to seamlessly blend together in a perfect cohesion of unity and efficiency — it was hypnotic.
But, aside from the army of sorters, Worldport is also successful due to the tremendous number of pilots, flight technicians and even a devoted handful of meteorologists that sort the nitty gritty logistics to keep the packages constantly moving. In fact, UPS manages to move more than 115 packages per second.
As the tour came to close in the wee hours of the morning, I couldn't help but feel a sense of awe wash over me. The automation was astounding, and the facilities were mesmerizing; one might call it a wonder of the manufacturing world. But, even in all of Worldport's steely glory, was the understated necessity of it all. UPS is an express business, which stands to reason that sometimes the nature of the shipments are urgent. This could mean anything from life-saving medical supplies, critical parts that keep factories running or even live insects, bees or lobsters. And, when all is said and done, on Worldport's shoulders lies a heavy responsibility to their customers, their customers' customers and so on.
The demands of a supply chain are ones that any manufacturer knows well, but what makes the facility remarkable is that Worldport embraces these challenges head on. The idea that UPS loves logistics solutions isn't just a marketing ploy; it's the truth. And, perhaps, this unabashed spunk is what makes Worldport all the more brilliant — both in form and in function.