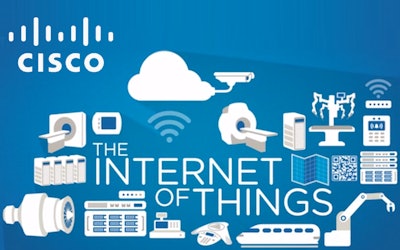 Cisco Systems this week unveiled a new framework designed to ease businesses' entry into the industrial Internet of Things.
The Cisco IoT System involves six programs to help manage massive amounts of data and achieve sufficient scale in order to realize the benefits of Internet-connected devices.
The system includes network connectivity, security and data analytics systems, along with management and app development programs and a "fog computing" element to allow local management of data.
Reach the next level of manufacturing operational performance with the Internet of Things.
Cisco's platform also includes more than 15 IoT products within those six pillars, including cameras, routers and software.
"This unique systems approach delivers a framework that makes it possible to deploy, accelerate and innovate with IoT," said Cisco Vice President Kip Compton.
Cisco also announced the addition of Covacsis, which will offer predictive analytics to manufacturing operations.
San Jose-based Cisco expects 50 billion devices to connect to the Internet by 2020, a ten-fold increase compared to the nearly 5 million connected devices in use this year.