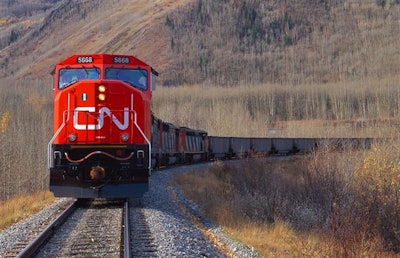 The union representing thousands of Canadian National Railway Company employees says it is considering a strike vote as labor issues persist among the country's largest rail operators.
The contract between the Unifor union – which represents about 4,800 mechanical, clerical and intermodal workers – and CN Rail, the country's largest rail company, expired at the end of last year, and talks have not resulted in progress toward a new agreement.
This week, Montreal-based CN said it would move forward with changes unilaterally if an agreement is not reached by Friday. The union appears set to respond by authorizing a strike vote, which Unifor officials said would take weeks to complete.
Should a strike go through, CN would join Canadian Pacific Railway, the country's second largest, which saw a brief walkout earlier this month by 3,000 engineers and conductors represented by the Teamsters union.
Although Calgary-based CP continued to operate, the disagreement appeared likely to disrupt commerce throughout North America and prompted political leaders to call for legislation forcing the employees back to work – a step lawmakers took during the last CP strike in 2012.
Instead, both CP and the Teamsters agreed to arbitration and the strike ended after only a day.
CN had previously reached a tentative deal this month with some 1,800 locomotive engineers represented by the Teamsters, while CP narrowly avoided a strike through a last-minute agreement with 1,200 maintenance workers represented by Unifor. Canadian National had also experienced labor disputes in 2013 and 2014.
Analysts said protracted stoppages could be particularly harmful to Canada amid falling oil prices – which have already wreaked havoc on the country's economy – though its agriculture, forestry and automotive sectors would also take hits.
Canada, like the United States, has seen a gradual decline in union membership, though it has fallen much more slowly and a significantly larger percentage of its population remains represented. As of 2012, 31.5 percent of Canadian employees belonged to unions; just 11.1 percent of American workers belonged to unions in 2014.