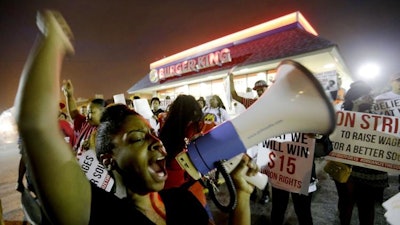 Thousands of protestors in dozens of U.S. cities took to the streets on Tax Day to again call for nearly doubling the nation's minimum wage.
Recent reports, however, suggested the unions that helped bankroll the ongoing wage campaign may be turning away from efforts to organize union elections for low-wage workers.
The New York Times reported last month that members of the Service Employees International Union voiced concerns about the union's $15 million effort to organize rallies calling for wage increases.
The report said some SEIU members don't believe those dollars will translate into benefits for its current members. Although frequent wage criticism targets McDonald's and Walmart recently announced modest pay increases, those companies and many other service industry giants have long fought off most union organizing efforts.
In addition, The Washington Post this week reported that the United Food and Commercial Workers union cut campaign funding following leadership elections in December. The new president, according to a Post source, campaigned hard against UFCW efforts at Walmart stores.
The recent changes follow a shift away from union organizing at Walmart in 2013; the OUR Walmart effort currently focuses instead on improving workers' wages and working conditions. A UFCW spokesman told the Post the union "will not stop until the hardworking men and women at Walmart have the better life they deserve."
Reports categorized Wednesday's rallies as the largest yet in a now years-long campaign to raise the nation's pay floor from the current $7.25 per hour to a "living wage" of $15 per hour.
Raising the minimum wage served as a prominent theme in recent Democratic campaigns and garnered the supportof the White House, but current law is unlikely to change with Republicans in control of Congress.
More than half of U.S. states, meanwhile, already established minimum wages above the federal threshold.