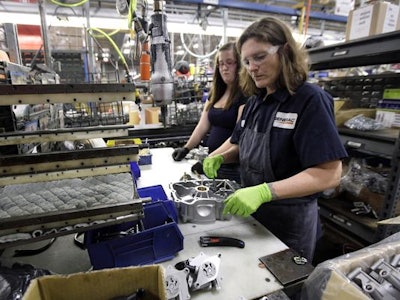 A new analysis from the McKinsey Global Institute suggests job websites and other online platforms could add trillions to the global economy while addressing labor shortages in crucial industries.
Researchers from McKinsey studied the potential impact of a variety of online talent platforms, from conventional résumé-posting websites such as Monster.com and LinkedIn to freelancing opportunities from companies including Uber and Upwork.
The study anticipated that those and other platforms would grow in scale and "inject new momentum and transparency into job markets while drawing in new participants."
The report predicted online platforms could boost global GDP by 2 percent — or $2.7 trillion — by 2025. That increase would translate into the equivalent of 72 million full-time jobs and benefit 540 million people overall.
McKinsey researchers said countries with persistently high unemployment, such as Greece, Spain and South Africa, would see the most improvement from the bolstered platforms, but added that the U.S. would also benefit due to the "fluidity" of its job market.
In addition to aiding workers struggling with underemployment, stagnant wages or low morale, online platforms could also help resolve the dichotomy of millions of unemployed workers alongside industries that cannot fill available positions.
Manufacturers, in particular, struggle with finding young workers with the necessary skills to fill production jobs — a problem that's likely to get worse as more and more American workers reach retirement age.
Other benefits, the report found, could include workforce productivity gains and improved educational choices by both young people and policymakers.
The analysis, however, warned that fully realizing the potential of online job platforms would require investment in broadband access, improved regulatory systems and better data and privacy safeguards.
"As people come to connect with work opportunities more efficiently, even larger economic ripple effects could abound in the years ahead," the report said.