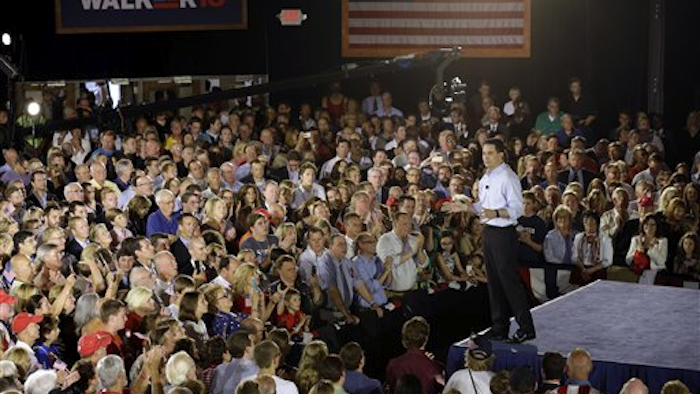 Scott Walker has been unofficially running for president for months as he courted influential donors and targeted early primary states.
But the Wisconsin governor's official entry into the race on Monday could raise the profile of labor issues in the national political dialogue.
It's likely that none of the candidates in the crowded Republican 2016 field are very friendly to unions, but Walker effectively owes the entirety of his rise from little-known Midwestern governor to top-tier presidential hopeful to the issue.
In 2011, just weeks into his first term and following sweeping Republican victories in the state Legislature, Walker unveiled what became known as Act 10. The bill eliminated nearly all issues on which public employee unions could collectively bargain and made it much harder for those workers to organize.
The bill sparked massive, weeks-long demonstrations on the statehouse grounds and prompted Democratic senators to leave the state to prevent a quick vote on the measure. Months after the bill passed, opponents began efforts to recall the governor.
Walker, however, survived the recall — the first governor in U.S. history to do so — and emerged as a conservative hero with a national network of potential donors.
Last year, Walker won re-election as governor, and although he initially attempted to distance himself from labor controversies in his second term, he signed legislation making Wisconsin the 25th "right-to-work" state earlier this year.
Now that he's officially in the race for 2016, Walker and his team aren't exactly shying away from those debates.
"We enacted big bold reforms, took power out of the hands of the big government special interests and gave it to the hard-working taxpayers," the governor said in a video announcing his candidacy that includes footage of the 2011 protests.
Walker's top campaign aide, Rick Wiley, told the Associated Press that the battle with public employee unions was the "first introduction to Walker" for many and remains "one of our biggest assets."
Labor leaders, meanwhile, also hoped to remind their supporters of the debate from four years ago.
"Scott Walker has governed with little regard for the people of Wisconsin and total affection for pleasing those who write his campaign checks," said Wisconsin AFL-CIO President Phil Neuenfeldt.