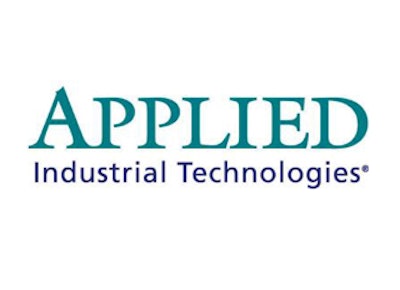 CLEVELAND, OH (July 20, 2012) – Applied Industrial Technologies is the only company to have ever received three awards in the same year from Eastman Chemical Company as part of their Eastman Supplier Excellence Program (ESEP). For 2011, Applied was awarded the Excellence Award, Innovation Award, and Sustainability Award, earning the status of a most valued supplier of power transmission and other MRO items for Eastman's business operations.
The Eastman Supplier Excellence Program recognizes consistent performance in providing the company with high quality materials and services, while working on Eastman's behalf to improve its efficiency and competitiveness in today's challenging market. Applied's selection is based on contributions in the areas of on-time shipping performance, meeting Eastman's quality expectations, providing innovative solutions to unique opportunities, and helping the company become a leader in the area of sustainability.
"Only three-tenths of one percent of our suppliers received an ESEP award for 2011," explains Debbie Davis Waltermire, Director, Global Indirect Procurement & Supply Chain for Eastman. "Applied is one of only two suppliers to win the Sustainability Award and the only supplier to win all three awards in the same year - - a testament to their exceptional service." This is the second consecutive year Applied has received supplier excellence awards from Eastman Chemical Company.
"Our partnership with Eastman Chemical is a model of success," says Tom Armold, Vice President – Marketing and Strategic Accounts. "They allow us to develop customized supply chain management solutions that are effective in reducing their cost of operations and improving sustainability at multiple locations. It's a win/win situation for both companies."
About Applied
With approximately 480 facilities and 4,600 employee associates, Applied Industrial Technologies is a leading industrial distributor that offers more than 4 million parts critical to the operations of MRO and OEM customers in virtually every industry. In addition, Applied provides engineering, design and systems integration for industrial and fluid power applications, as well as customized mechanical, fabricated rubber and fluid power shop services. Applied also offers maintenance training plus solutions to meet inventory and storeroom management needs that help provide enhanced value to its customers. Applied can be visited on the Internet at www.applied.com.
About Eastman Chemical Company
Eastman is a global specialty chemicals company that produces a broad range of advanced materials, additives and functional products, specialty chemicals, and fibers that are found in products people use every day. As a world leader in the diverse markets it serves, Eastman is focused on delivering innovative and technology-based solutions while maintaining its commitment to safety and sustainability. For more information, visit www.eastman.com.