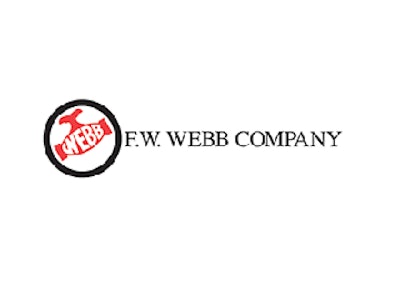 Madison, WI - To show appreciation for one of its top-performing distributors, Rayovac has awarded F.W. Webb the Rayovac Industrial Outstanding Distributor Award for the quarter ended June 30. With the award's inception in 2010, Rayovac is able to honor its most exceptional distributors for a variety of achievements including sales volume growth, joint marketing efforts and high-level performance.
F.W. Webb, a plumbing and heating distributor based in New England, enjoyed an outstanding quarter with Rayovac product sales, even outpacing its numerous larger competitors. Its sales more than doubled versus the quarter ended in March 2012, and were more than five times higher than those in the year-ago June quarter.
Thanks to focusing on lights such as the virtually indestructible Rayovac Industrial Grade lights and employing central distribution techniques, F.W. Webb is on track to have its best year ever, with sales in the quarter ended in June alone accounting for more than half of the sales from each of the last two fiscal years. In addition, overall Rayovac sales numbers have doubled since 2009.
The company has also had major success bringing Rayovac Industrial Grade lights to its end users after generating excitement about the line at an annual expo in May. Three Rayovac virtually indestructible SKUs are being sold, and several branch managers are even competing to see who can sell the most from the line.
"We've been so impressed by F.W. Webb's outstanding performance, particularly in spite of its smaller size," said Kim Olson, Division Vice President, Rayovac Industrial, Government and OEM Sales. "We're so lucky to have such a passionate distributor and wish to thank them for their dedication with this award."
About Rayovac
Rayovac, a division of Spectrum Brands Holdings, is a worldwide leader in battery power and innovation. Backed by a long history of bringing the latest innovations to the marketplace, Rayovac offers a full range of high-performance batteries to meet the power needs of today's consumers. From long-lasting alkaline batteries to advanced green rechargeable technology to the world's top-selling, longest lasting mercury free hearing aid battery, Rayovac's state-of-the-art products offer more power for the money. The company also manufactures a wide selection of high-quality flashlights. For more information, visit www.rayovac.com .