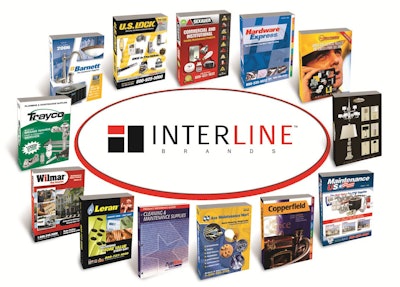 Jacksonville, FL - Interline Brands, Inc., a leading direct marketer and distributor of broad-line maintenance, repair and operations (MRO) products, today announced the expiration of the "go-shop" period provided for in the merger agreement announced on May 29, 2012, by which Interline would be acquired by affiliates of GS Capital Partners VI L.P. and P2 Capital Partners, LLC.
Under the merger agreement, the Company and its representatives had the right to solicit superior proposals from third parties during a "go-shop" period that expired at 11:59 p.m. EDT on June 28, 2012. During the "go-shop" period, Barclays Capital Inc., the Company's financial advisor, contacted potential acquirers that the Company and Barclays Capital Inc. believed might have been interested in an alternative transaction to the merger with affiliates of GS Capital Partners and P2 Capital Partners. The Company did not receive any alternative acquisition proposals from third parties during the "go-shop" period.
Starting at 12:00 a.m. on June 29, 2012, the Company became subject to customary "no-shop" provisions that limit its ability to solicit alternative acquisition proposals from third parties or to provide confidential information to third parties, subject to a ''fiduciary out'' provision that allows the Company to provide information and participate in discussions with respect to certain unsolicited written takeover proposals and to terminate the merger agreement and enter into an acquisition agreement with respect to a superior proposal in compliance with the terms of the merger agreement.
The parties currently expect to complete the merger by the end of the third fiscal quarter of 2012, subject to certain closing conditions, including the approval of Interline's shareholders. Following completion of the transaction, Interline will become a privately held company and its stock will no longer trade on the New York Stock Exchange.
About Interline
Interline is a leading distributor and direct marketer with headquarters in Jacksonville, Florida. Interline provides broad-line MRO products to a diversified customer base of facilities maintenance professionals, professional contractors, and specialty distributors primarily throughout North America, Central America and the Caribbean. For more information, visit the Company's website at http://www.interlinebrands.com.
About GS Capital Partners
Since 1986, the Goldman Sachs Merchant Banking Division and its predecessor business areas have raised 16 private equity and principal debt investment funds aggregating over $82 billion of capital (including leverage). GS Capital Partners VI is the current private equity vehicle through which Goldman Sachs conducts its large, privately negotiated, corporate equity investment activities. A global leader in private corporate equity investing, GS Capital Partners is a family of funds with a focus on large, high quality companies with strong management and funding acquisition or expansion across a range of industries and geographies. Founded in 1869, Goldman Sachs is a leading global investment banking, securities and investment management firm that provides a wide range of financial services to a substantial and diversified client base that includes corporations, financial institutions, governments and high-net-worth individuals. For more information, please visit www.gs.com/pia.
About P2 Capital Partners, LLC
P2 Capital Partners, LLC is a New York-based investment firm that applies a private equity approach to investing in the public market. P2 manages a concentrated portfolio of significant ownership stakes in high quality public companies in which it is an active shareholder focused on creating long-term value in partnership with management. The firm will also lead private equity transactions within its public portfolio. P2's limited partners include leading public pension funds, corporate pension funds, endowments, foundations, insurance companies, and high net worth investors.