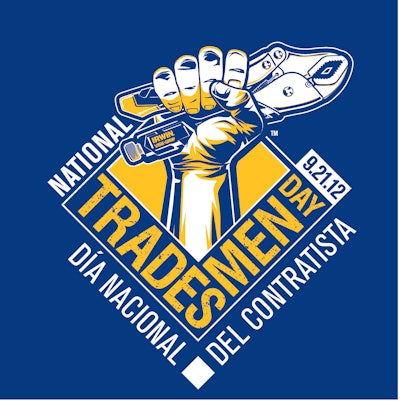 IRWIN Tools Invites the Nation to Honor "The Real Working Hands that Build America and Keep it Running Strong"
HUNTERSVILLE, N.C., May 9, 2012 – The second annual National Tradesmen Day will be held on Friday, Sept. 21, 2012, and IRWIN® Tools, a world-class manufacturer of a broad line of professional hand tools and power tool accessories, encourages all Americans to make plans to recognize America's tradesmen – the men and women who are the backbone of a great nation. The country's skilled craftsmen – "The Real Working Hands that Build America and Keep it Running Strong" – should be proud of their incredible skills and talents, and they deserve to be recognized for their hard work, which is often performed in difficult environments under stressful conditions.
National Tradesmen Day, held each year on the third Friday in September, is intended to be a day when the nation pauses to thank skilled workers like auto mechanics, roofers, bricklayers, plumbers, woodworkers, electricians, carpenters, etc. During last year's inaugural National Tradesmen Day festivities, many people found ways to show appreciation and gratitude for tradesmen by holding celebrations, recognition events and activities throughout the country.
"Last year, it was so incredible to see the appreciation and surprise of tradesmen who were honored on jobsites across the country, and also at events like the 2011 IRWIN Tools Night Race at Bristol Motor Speedway, when IRWIN invited 250 professional tradesmen to give the command for drivers to start their engines," said Curt Rahilly, Vice President of Marketing for IRWIN Tools. "Without these hard working men and women, America's infrastructure and our way of life would come to a screeching halt. It's vitally important that we say thanks."
This year, IRWIN is coordinating multiple activities throughout the nation and is partnering with retailers and community groups for National Tradesmen Day celebrations. IRWIN offers some ideas Americans can use to show their appreciation of skilled tradesmen this year:
1) Call your favorite handyman and simply say "thanks for all you do."
2) Stop by a local jobsite where tradesmen are working and leave a box of donuts or cookies.
3) Buy a tradesman coffee when you stop by a convenience store.
4) If your friend, husband, wife, daughter, or son is a tradesman, make September 21 an extra special day for him/her.
5) Support trade schools that train America's future tradesmen, and urge Congress to adopt workforce development policies for skilled trades.
6) Talk with your kids about the endless career opportunities in a skilled trade, and visit SkillsUSA.org to learn more about a national organization serving teachers, high school and college students preparing for careers in technical, skilled and service occupations.
For more information about 'National Tradesmen Day,' visit www.nationaltradesmenday.com or http://www.facebook.com/nationaltradesmenday.
About IRWIN Tools
IRWIN® Tools manufactures and distributes a broad line of hand tools and power tool accessories including VISE-GRIP® pliers and wrenches, MARATHON® saw blades, QUICK-GRIP® clamping tools, SPEEDBOR® wood drilling bits, STRAIT-LINE® marking tools, UNIBIT® step drill bits, MARPLES® fine woodworking tools, and HANSON® taps and dies. IRWIN Tools is a part of Newell Rubbermaid's global portfolio of leading brands. For more information, call 1-800-GO-IRWIN or visit www.irwin.com. IRWIN invites the nation to celebrate National Tradesmen Day, on Friday, Sept. 21.