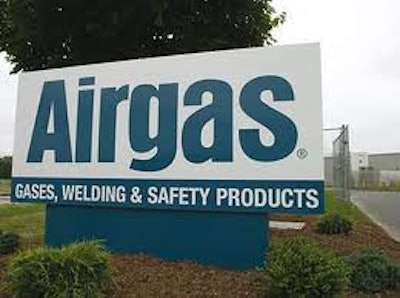 Airgas Acquires Nordan Smith Operating in Mississippi, Arkansas, and Alabama
Radnor, PA - Airgas, Inc. (NYSE: ARG) today announced it has acquired the assets and operations of Industrial Welding Supplies of Hattiesburg, LLC, which is doing business as Nordan Smith, a Hattiesburg, MS-based distributor of industrial, medical, and specialty gases and related supplies. The acquired business, with 17 locations throughout Mississippi, Arkansas, and Alabama, generates annual revenues in excess of $30 million.
After a transitional period, six of the acquired locations will be integrated into the Mid South region of Airgas USA, LLC, and eleven will be integrated into the South region. The Mid South region serves customers in Oklahoma, Arkansas, Kansas, North Texas, Missouri, Northern Louisiana, Western Tennessee, and Northwest Mississippi, while the South region serves customers in Florida, Georgia, Alabama, Mississippi, and Tennessee. The Mid South and South regions are among 12 regions which comprise Airgas' distribution business.
"We are excited to welcome more than 110 Nordan Smith employees to the teams at the South and Mid South regions. Their reputation for exceptional customer service aligns well with Airgas' customer-centric culture," said Airgas Executive Vice President and Chief Operating Officer Michael L. Molinini. "Nordan Smith's broad range of industrial, medical and specialty gases and the hub production and distribution facility located in Hattiesburg, Mississippi will complement Airgas' distribution business and continue to provide customers and branches with reliable products and expertise."
Nordan Smith's history dates back to 1982 when Robert Tatum led the acquisition of Industrial Welding Supplies of Hattiesburg, Inc. Mr. Tatum has since led the growth of the company by implementation of an acquisition program and organic growth initiatives.
"I am thankful to our loyal customers for all their support over the years. They can look forward to enhanced product and service offerings as we join forces with the industry leader," said Mr. Tatum. "Airgas is a strong cultural fit for the Nordan Smith staff as well since both are highly entrepreneurial cultures that place high value on customers and associates. With Airgas, there is a tremendous amount of opportunity for Nordan Smith associates."