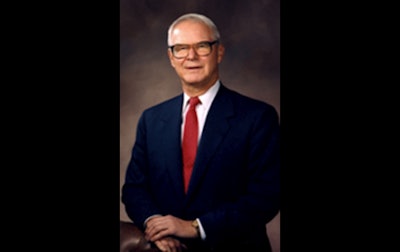 MINNEAPOLIS — Graco Inc. (NYSE:GGG) is saddened by the passing of David A. Koch, a retired past President, CEO, and Chairman. Mr. Koch became President of the Gray Company in 1962. Mr. Koch led the initiative to take the Company public in 1969, as Graco Inc., when reported revenues were $33 million. Mr. Koch retired as CEO in 1996, but served as the company's Chairman of the Board until 2001, when company revenues approached nearly $500 million.
"During his long tenure leading Graco, Mr. Koch established a culture of ethics and integrity that remains firmly rooted in our company today," said current President and CEO, Patrick J. McHale. "He cared deeply for our company and our employees, and was a personal role model for me."
"Communities throughout the Twin Cities also benefitted from his commitment to a wide variety of charitable causes, both through the Graco Foundation as well as his personal giving campaigns," continued McHale. "He was an enormously successful business leader and a fixture in our community. He will be missed by all who knew him or benefited from his generous nature."
Graco Inc. supplies technology and expertise for the management of fluids and coatings in both industrial and commercial applications. It designs, manufactures and markets systems and equipment to move, measure, control, dispense, and spray fluid and powder materials. Minneapolis-based Graco serves customers around the world in the manufacturing, processing, construction, and maintenance industries. For additional information about Graco Inc. visit www.graco.com.