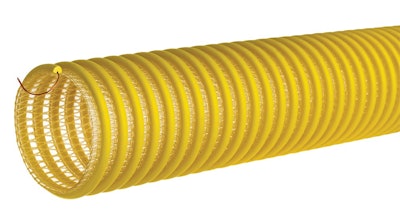 Kuriyama (Schaumburg, IL) introduces its Tigerflex VAPORFLEX - VAPR Series Heavy Duty Reinforced Vapor Recovery Hose constructed with a transparent polyurethane (TPU) tube with polyester fabric reinforcement, rigid PVC helix and embedded grounding wire.
Its features include:
The hose's reinforcement provides resistance against instances of hose tearing due to pulling or hanging.
The hose is well-suited for demanding terminal use.
The use of "Cold-Flex" materials provides flexibility in sub-zero temperatures.
The hose is biofuel compatible and is designed to handle gasoline, ethanol, diesel and biodiesel vapors.
The product is an ideal hose for vapor recovery during terminal loading and vapor recovery for fuel delivery.
www.kuriyama.com; 847.755.0360