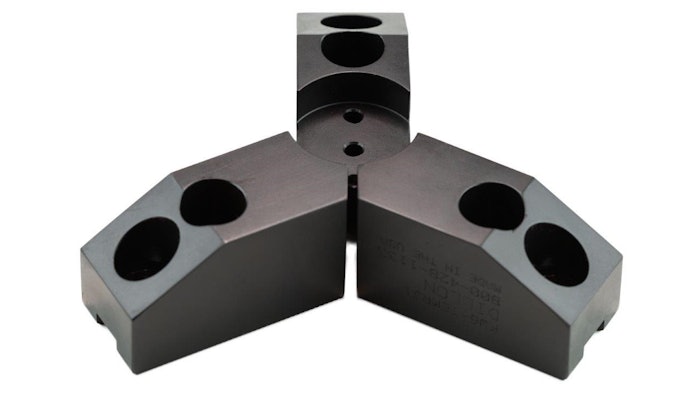 Dillon Manufacturing (Springfield, OH) presents special top jaws which can be configured to securely grip any workpiece, including holding a components ID, OD, or a combination of both.
Available in many materials with dimensions to suit the project at hand, they are available as soft or hard jaws, or full grip jaws, for virtually any chuck manufacturer. Any component dimension can be altered. Extra wide hard jaws provide more maximum part contact and penetration. Hard jaws can be configured to accommodate several different diameters; doing so without serrations eliminates marring of workpiece surface. Extended length hard jaws can be built to grip small to medium surfaces; incorporating multiple locating diameters gives machinists flexibility and the capability for quick changeover. Tapered angle serrated surfaces, which mirror the draft angle of the parts to be machined, can be designed.
A comprehensive website provides complete details and includes an "easy quote" format with "fill-in-the-blanks" convenience at https://dillonmfg.com/special-jaws/. Dillon standard and custom chuck jaws and collet pads and jaws are ideal for high-speed machining, as well as precision boring, tapping, drilling and finishing across virtually all industrial markets.
Dillon custom, special, or modified hard, soft or full grip top jaws are manufactured with industry-best turnaround time, which saves time and money by reducing down-time.
www.dillonmfg.com, 800-428-1133