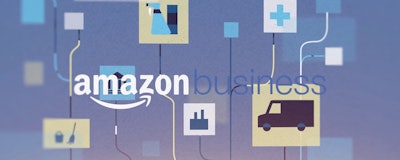 The role of Amazon Business in the B2B distribution sector has been a hot topic of discussion ever since the unit replaced AmazonSupply in the spring of 2015, signaling Amazon's increased emphasis on the business supply market.
Since its launch, Amazon has been relatively quiet about sharing facts-and-figures details of Amazon Business — which is focused on four key areas: Commercial, Government, Healthcare and Education. In fact, July of 2017 was the last time such an update was given, when the company stated that Amazon Business has surpassed 1 million business customers and 85,000 business sellers. Since that time, Amazon Business has expanded to three additional countries and is now available in six countries: the United States, Germany, United Kingdom, Japan, India and France.
Amazon Business launched in Germany in December of 2016, the United Kingdom in April of 2017, Japan and India in September of 2017, and France in February of this year. Last October, Amazon Business launched Business Prime Shipping which — like Prime for typical consumers — offers unlimited fast, free shipping on eligible items for users on an Amazon Business account.
Ever since Amazon Business has existed, the question of 'Friend or Foe' has been discussed at length among our ID audience. That, along with the notion that Amazon Business won't be able to truly become a formidable B2B supplier until it increases its services — as industrial distributors have always touted their services as their bread-and-butter differentiators, especially now against online-only product catalog houses.
I recently interviewed, Martin Rohde, Head of Commercial Customers at Amazon Business, about those points above, along with how Amazon Business' services have evolved for helping customers with their tail spend. Check out our conversation below:
Industrial Distribution (ID): With all the talk about 'Amazon: Friend or Foe?' among our audience of industrial distributors and suppliers, everyone seems to agree that Amazon Business makes a great resource to help with tail spend — as a new or extra e-commerce channel to sell that 10-20 percent of inventory that isn't actively managed. Can you give me an overview of Amazon Business' role in customers' tail spend?
Martin Rohde (MR): Customers tell us one of their unsolved pain points is in tail spend management. They want to get great prices and shipping on those 10-20 percent of tail spend items, as well as greater visibility and control into compliance and regulation. However, they also want a process that's easy and satisfactory for the end user. Amazon Business constantly negotiates pricing on otherwise un-negotiated tail spend items on behalf of customers by awarding the buy box to the best offer. We have taken the baseline of Amazon.com and built on the experience, including the addition of more than 85,000 business sellers, as well as features and functionality for business customers.
Let me provide an example that shows the breadth of products available on Amazon Business: an industrial company was expanding its large plant by adding a new factory. The employees said it was such a large area to cover, and they wanted bikes to get from point A to point B. Being a safety-conscious company, they wanted yellow tricycles (in order to be easily seen) and found them on Amazon Business. So they got what they needed at a great price for a tail spend item. Amazon Business offers hundreds of millions of products, which is great for tail spend. On top of that, we have more than 85,000 business sellers that provide business-only pricing and quantity discounts.
ID: Best-practice discussions about e-commerce among distributors often mention how B2B websites need to have Amazon-like functionality, since that's what we're all used to when shopping online. Obviously, that applies to Amazon Business. So how has Amazon Business increased the customer buying experience while also improving the procurement process for sellers?
MR: We pride ourselves on being customer-centric, and have added features and functionality to meet business customer needs. They want the baseline business requirements — invoicing, tax-exemption, quantity discounts and integration into their ERP. We built these for Amazon Business customers. Through customer research and listening to pain-points, we built other features such as curation — giving customers the ability to mark suppliers as "preferred" or "restricted," which allows them to mark a preferred safety goggles supplier and move them to the top of your search results. The second feature was credentialed suppliers — minority- or veteran-owned businesses or featured local suppliers. Sellers love Amazon Business for that component, as the mixture of curation and credentialing was something they see as an opportunity. They can maintain their supplier base while also achieving their goal of digitizing their procurement.
ID: It's been about a year since Amazon Business launched the availability of line-item detail on purchases. What has been the feedback from that?
MR: Our research showed customers were having a problem with reconciliation of items they bought via credit card. The issue there is the statements are limited in line item detail that is provided, making it hard to see exactly what you bought. We worked with Visa and several of their issuing banks to provide level three line item data. Level three line item data provides 27 additional fields of information for Amazon Business customers. Instead of just seeing "this item was purchased on Amazon Business," it shows specifically that you bought office paper and its key characteristics. We hear customers saying this feature has saved them time and added more visibility to the reconciliation process. We are continuously making customers aware of this feature, as well as other tools from Amazon Business that can help them save time and increase efficiency.
ID: One thing I keep hearing when talking to industrial distributors is that Amazon will never be able to replicate the level of customer service that distributors have. Can you comment on how Amazon Business customers can address concerns and questions about the products and equipment before or after they buy them?
MR: When it comes to posting purchase customer service, we are leveraging Amazon's world-class customer service by tailoring it to the needs of business customers. In regards to pre-purchase customer service, customers tell us that we have some of the best product detail pages, allowing them to inform themselves on their own time and at their own pace. For example, we get a lot of good feedback on how customers wound up buying other products while shopping on Amazon Business through "customers who bought this item also bought..." In addition, we provide extensive Q&A on product pages. I looked at a specific item — an electrical test kit from Klein Tools. One customer's question was, "will this meter test AC and DC?" The answer came from a seller on our network. On Amazon Business, half of the purchases are being satisfied by third-party sellers. I think that's a great way — a different way — of customer service. I looked at another product that had over 120 responses from other buyers or sellers, which are easy to search and filter. We provide product ratings and detailed product reviews as well. It's still day one for us at Amazon Business. We are in the beginning stages and are meeting with customers constantly to better understand their needs and innovate on their behalf with new features and offerings.