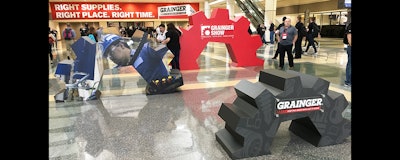 ORLANDO, FL — Greetings from muggy Orlando, FL, ID readers. I'm writing this from the Orange County Convention Center, site of the 14th annual Grainger Show.
Grainger is hosting more than 12,000 attendees across 450,000 square feet of trade show floor space, where more than 700 suppliers are exhibiting and an estimated 5,000 to 6,000 customers are networking and seeing everything the MRO products giant has to offer.
And Grainger has plenty to offer. Along with providing its suppliers ample space to exhibit, the show includes seminars and workshops on workplace safety, operational efficiency, healthcare facility management, food safety regulations, emergency preparedness, energy efficiency and digital technologies used in manufacturing.
Grainger customers also have the opportunity to learn more about the company's offerings in safety, inventory management, e-commerce, facility services, metalworking and consulting services at solution centers across the show floor.
"An event like this for Grainger showcases the types of products, solutions, services and expertise we offer customers," said Deb Oler, Grainger Senior Vice President and President, North American Sales and Services. "We have a broad set of quality in-stock products, a consultative sales approach, technical and product expertise, a premium digital experience and the ability to get complete orders to customers quickly. That's the value of Grainger, and that's what we do to help our customers solve their most pressing problems that are unique to their businesses."
This is my second-straight Grainger Show, so it helps to know the lay-of-the-land here and not have to add several thousands more steps to my FitBit wandering in search of something.
Besides getting to see what Grainger offers its customers and suppliers, the event is also great for us trade publications, as we get inside access to Grainger's top executives, including chairman and CEO DG Macpherson; senior vice president and president of North American sales and services Deb Oler; and vice president of services and solutions Brian Norris. We started off Monday with a media roundtable discussion with chairman and CEO DG Macpherson, who provided an overall update on the state of the company and then fielded our questions on topic including: Grainger's recent strategic pricing changes; its physical branch network; e-commerce updates; the impact of the new U.S. tax law and more. The afternoon included a media roundtable with Oler and Jeff Ragan - Director of Sales Effectiveness, who combined to discuss Grainger's vital role in helping first-responders to the 2017 hurricanes and other natural disasters.
ID will have plenty of coverage out of Grainger Show in the weeks ahead, so stay tuned to IndDist.com, our daily newsletter and social media updates (Twitter, Facebook, LinkedIn). I'm been live-Tweeting my sights and sounds on ID's @IndDistwebsite Twitter handle. You can also keep up with the 2018 Grainger Show on Grainger's social media or just track the #GraingerShow hashtag.
Get a feel for Grainger Show 2018 with my panoramic video and photo gallery from the show floor below: