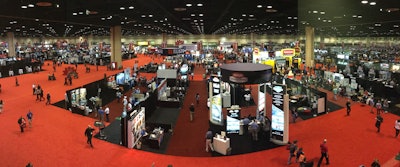 Grainger hosted its 13th annual Grainger Show event Sunday-Tuesday in Orlando, FL, where more than 12,500 attendees convened to network, including more than 700 suppliers from across the U.S. that showed off their latest and greatest products and solutions to the MRO market at large.
The trade show filled the 450,000 square foot expo hall of the Orange County Convention Center, and well beyond that including the event's opening session, seminars and workshops.
It was the first Grainger Show I've attended, and I certainly came away impressed. I've attended plenty of industry association-hosted conventions, but my two days there really showed me the true size and capabilities that Grainger has as the largest U.S.-based industrial distributor, and No. 3 on Industrial Distribution's Big 50 List.
I was at Grainger Show 2017 for Sunday evening and the full day Monday. Here's what my time there included:
I was invited to Grainger Show, where the company's marketing team set up a gauntlet of interviews for myself and a group of other trade publication editors on Monday. It was a great opportunity to get unfiltered access to a half dozen Grainger executives, including CEO D.G. Macpherson — who held a roundtable discussion with the editor group and spoke candidly about the company's operations and outlook. See my blog about Macpherson's comments about Grainger's state of e-commerce and its expectations here.
After the roundtable with Macpherson, my 1-on-1 interviews throughout Monday were with:
Brad Laux, Grainger Director of Metalworking
Geoffrey Robertson, Grainger Vice President of Product, Innovation and Business Integration
Travis Kruse, Grainger Senior Director of Safety Strategy and Solutions
Kevin Hartler, Grainger Senior Director of Consulting Services
Along with several other editors, I also chatted Grainger Senior Director of Services, Parris Devine, who gave us a tour of Grainger's Shoemobile.
Prior to that on Sunday, I attended the trade show's opening reception and dinner, which gave suppliers and attendees — including Grainger sales reps and managers — their first chance to mingle at supplier booths and Grainger services stations while helping themselves to a food spread and adult beverages.
Upon entering the expo hall I realized immediately that Grainger Show doesn't take a backseat to any of the other well-known industry conventions.
"It's the biggest trade show in our space, for sure," Macpherson commented Monday morning.
Here's a batch of photos I snapped while walking the trade show floor between Sunday and Monday: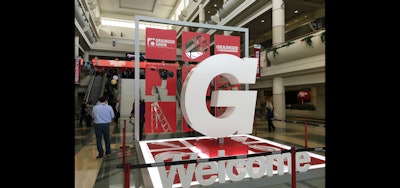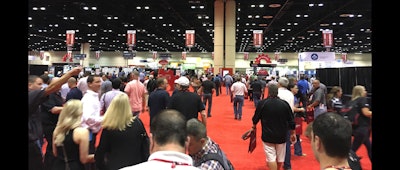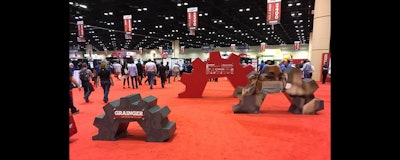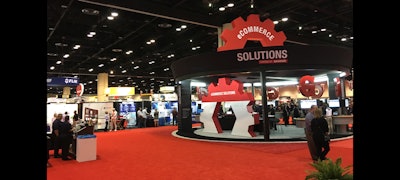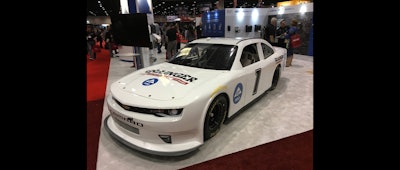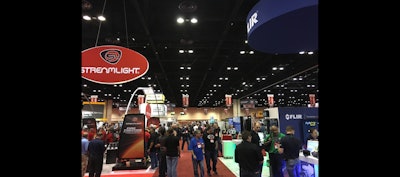 And here's a selection of Tweets I posted during the show, as well as Tweets from Grainger: