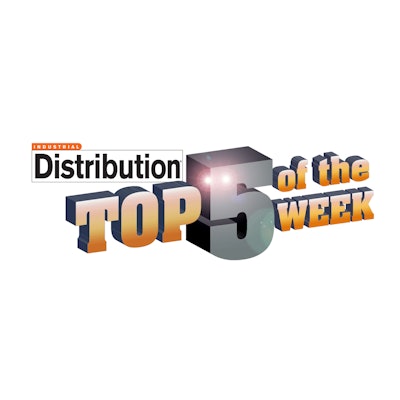 Two thought-leadership articles were among the most-read ID items as of late, while my blog about where distributors ranked on Fortune's annual 'Most Admired Companies' list led content overall.
Here's this week's Top 5
Grainger, WESCO Lead Distributors On Fortune 'Most Admired' List: Fortune recently shared its annual 'World's Most Admired Companies' list, showing that Grainger topped the diversified wholesalers category for a third-straight year. See where other distributors and notable companies were ranked.
Q4 Sales Climb At Motion Industries, Flat At EIS Inc.: Genuine Parts Company reported its quarterly fiscal numbers on Tuesday, showing healthy sales and profit gains at Motion Industries, with flat sales and declining profit at EIS Inc.
Distributors - Ask These 5 Questions To Optimize Your Incentive Travel Program: One tried-and-true way for distributors to encourage customers to do business with them rather than the competition  is through incentive travel. If you use incentive travel to incite growth, ask these questions to evaluate your strategy and maximize the engagement and ROI your travel program delivers.
Ferguson Acquires New England's P.V. Sullivan Supply: Quincy, MA-based P.V. Sullivan is a plumbing and heating distributor serving Boston and eastern Massachusetts, serving New England's largest contractors and plumbing professionals.
As Customer Expectations Evolve, Distributors Need Agile Digital Solutions: Today's B2B buyers want to engage with distributors and manufacturers in a streamlined, customized fashion. Therefore, if distributors don't integrate the right technology to perfect digital offerings soon, they'll risk falling farther and farther behind to more innovative competitors.