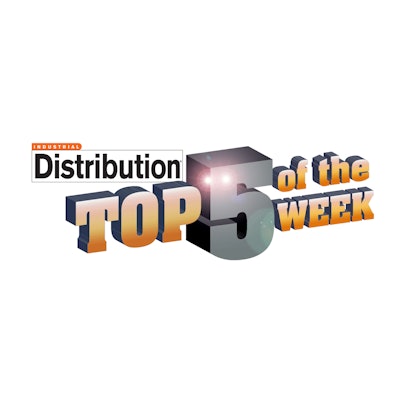 News of Hagemeyer North Ameirca-IDG's upcoming rebranding dominated this week's news, while news on Big 50 companies Essendant, WESCO and Applied were also top items.
Here's this week's Top 5
Hagemeyer North America-IDG To Rebrand As Vallen In October: Hagemeyer and Industrial Distribution Group merged in 2014, and will soon go by the name of Vallen Distribution as the Sonepar USA subsidiary will hold a full brand launch the week of Oct. 10.
Essendant To Slash Inventory Purchases, Reduce Distribution Centers: Workplace essentials distributor Essendant recently said it will lower its inventory purchase by about $100 million and reduce its number of distribution centers from more than 70 to between 61 and 64.
Jack Keough - WESCO Sees Optimistic Signs Despite Branch Closures: See WESCO CEO John Engel's comments about how prolonged weakness in industrial end markets is impacting business and where he sees positive signs.
Applied 2016 Sales Decline 8.4 Percent: Applied's Q4 sales declined 6.4 percent, led by a 7.6 percent drop in organic sales. Roughly half of that organic decline was from sales to the upstream oil and gas markets.
Is Inventory Optimization As Valuable As Relationships For Distributors?: ID's recent Survey of Distributor Operations revealed the high value distributors place on customer relationships. Eric Jensen explains how employing the right inventory optimization techniques and solutions play an important role in maintaining those relationships and increasing bottom line results.