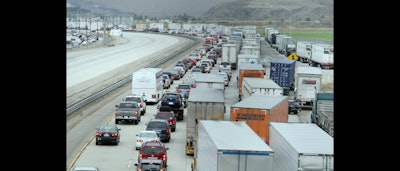 The Obama administration this week issued the next phase of stricter fuel efficiency standards for large trucks — and the trucking industry appears to be going along with the plan.
The rules, which apply to model years 2021 through 2027, would reportedly require efficiency improvements from 2.5 percent for large pickups and vans to 25 percent for some tractor-trailers.
The Department of Transportation and Environmental Protection Agency argued that the standards would both help the environment and prove to be cost-effective for trucking companies.
The agencies noted that heavy-duty vehicles currently account for about 5 percent of the nation's traffic but 20 percent of the transportation sector's greenhouse gas emissions and oil consumption.
Officials said that the adoption of currently available technology would lower carbon dioxide emissions from those trucks by 1.1 billion metric tons and curb oil consumption by up to 2 billion barrels over those vehicles' lifetimes.
Vehicle owners, in turn, would save an estimated $170 billion in fuel costs. The administration said that economic, climate and public health benefits would total $230 billion -- outweighing the rules' estimated costs by an eight-to-one ratio.
"Today's ambitious but achievable announcement is a huge win for the American people, giving us cleaner air, more money saved at the pump and real benefits for consumers across the supply chain," said Transportation Secretary Anthony Foxx.
Although other parts of President Obama's Clean Power Plan drew criticism from industry, The Wall Street Journal reports that truckers, and the companies that rely on them, helped craft the new standards and are generally supportive of them.
Projections found that the rules could ultimately increase the cost of a tractor-trailer by more than $15,000, but the EPA said that most new owners could recoup the added expenses through fuel savings within two years by 2027.
The Owner-Operator Independent Drivers Association, however, warned that smaller trucking companies could struggle to meet the costs of the new technology.
"There is very little room for error in an industry that calculates things down to the penny per mile," Scott Grenerth, the group's regulatory affairs director, told the Journal.