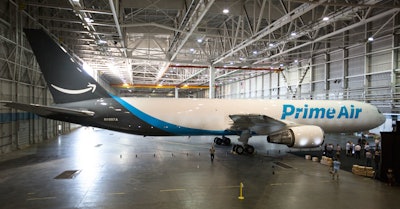 Amazon.com on Friday planned to debut the first cargo plane to feature the e-commerce giant's branding.
The Boeing 767-300 — which was named Amazon One — will make its inaugural flight at the Boeing Seafair Air Show in the company's native Seattle. The plane features part of the Amazon logo on the tail and is emblazoned with "Prime Air" on the side.
Although the Prime Air name was originally designated for the company's planned delivery drones, the program will evidently extend to the company's growing fleet of cargo planes.
"Creating an air transportation network is expanding our capacity to ensure great delivery speeds for our Prime members for years to come," Dave Clark, Amazon's senior vice president of worldwide operations, said in a statement.
Amazon has leased 40 cargo jets from Atlas Air and ATSG to support its growing shipping operations. The 20 Atlas planes, in particular, were leased to support rapid shipment to Amazon Prime subscribers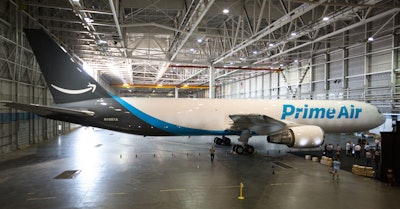 Atlas will operate Amazon One, which joins 11 planes already dedicated to Amazon cargo. The remainder will be "rolling out over time."
"I cannot imagine a better way to celebrate the inaugural flight than in our hometown at Seafair alongside Amazon employees and Seattle residents," Clark said.
Amazon's initial cargo plane leases were slated to operate out of a former DHL hub in Ohio. The company also acquired a French delivery company last year as well as purchased thousands of truck trailers for its U.S. shipping network.
Amazon also shared this video Friday: