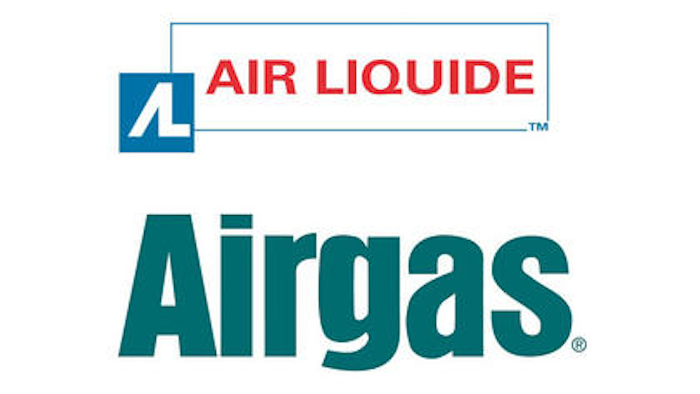 Air Liquide, which recently announced its intention to purchase Airgas, No. 9 on Industrial Distribution's 2015 Big 50 list, has made it clear that it sees huge growth opportunities in the U.S. including further bolt-on acquisitions.
Benoit Potier, chairman and president of Air Liquide, a $20 billion French-based gas company, noted in an investor presentation that half of the U.S. gas market is dotted with independent companies, meaning future acquisitions could be on the horizon.
"The U.S. market will be a huge driver of global growth and innovation," he said. "This acquisition increases our geographic reach in the resilient U.S. market, and offers continuous growth opportunities. It's the fastest growing market among advanced economies."
Free webinar: Transitioning Your Distribution Business to an Online World
Potier said Airgas currently has a 25 percent market share in packaged gases in the U.S. and projections are that up to 25 percent of future global industrial gas demand will come in the U.S. as well.
Acquisitions would be an extension of the policy followed by Airgas, which has purchased more than 450 companies in the past 30 years. Most of those acquisitions were of small to mid-size firms. From the beginning of its fiscal year through October, Airgas has acquired 12 companies with aggregate sales of some $80 million.
Radnor, Penn.-based Airgas was founded in 1982 by Peter McCausland, who is now the executive chairman of the company.
"This transaction is compelling for our shareholders, arising from the persistent execution of our business strategy for more than three decades," McCausland said in a statement.
Bloomberg reported that McCausland, who owned 6.7 million Airgas shares as of March 31, will receive $962 million in the deal. He is the largest stockholder in the company.
Airgas went public in 1986 and since then the stock price has increased 130 fold, Bloomberg said.
The purchase price is $10.3 billion, but including debt the deal is valued at $13.4 billion, making it one of the largest acquisitions in the industrial gas business in many years. The combined company will become the biggest industrial gas firm in the world, and the merger is expected to generate over $300 million in pre-tax synergies within two-to-three years of the deal's close.
The boards of directors of both companies have unanimously agreed to the buyout and now has to be approved by Airgas shareholders by a simple majority  and then by regulatory authorities.
Benoit anticipates no problems in garnering governmental approvals since both companies are complementary to one another. "We've done this (type of deal approval) many times before," he said. "Clearly this will make us an undisputed global leader."
Air Liquide has a strong presence in the U.S, with 5,000 employees and 140 plants headquartered in Houston, Texas. Their corporate headquarters is located in Paris, France .
Air Liquide's worldwide sales were $20.4 billion last year, compared to $5.3 billion for Airgas.
Airgas sells industrial, medical and specialty gases, welding equipment, and safety supplies with nearly all of its sales coming in the U.S. It is the leader in selling packaged gas while Air Liquide sells gases, technologies and services to customers in some 80 countries. 
Several times during the webcast with investors, Potier mentioned the strength of the U.S. manufacturing sector, despite recent setbacks,  and how it is poised for growth.
He noted a number of reasons for his optimism: low energy prices, a strong manufacturing base, increased environmental regulations, and the need for further health care/institutions because of an aging population.
Benoit said the merger will lead to a fully integrated supply chain of the two businesses and also full market coverage through multiple distribution channels that will include E-business.
"Our businesses are highly complementary," Benoit said.
He described Airgas as the most advanced industrial gas company in the world in terms of e-commerce and  "will give us a successful e-platform for advanced products and innovation in the two companies."
In a recent report, Airgas said that its digital sales had increased 42 percent last quarter compared to the same quarter a year ago, a record for the company. Its new e-commerce platform has led to thousands of more customer locations ordering products on line, Airgas officials said.
Pierre Dufour, senior executive vice president of Air Liquide, said although Airgas had grown by acquisitions, its success has also come from a a sound operational strategy.
Airgas, he said, has more than one million customers in "just about every channel" due to the expertise of field salespeople and a successful e-commerce program.
"They touch these customers in just about every channel that can be used," Dufour said. "They touch them with direct salesmen, they touch them with industry specialists, they touch them through telemarketing, they touch them through e-commerce, they touch them through stores, with over 1,000 such stores in the country.".
He noted that Airgas with its 17,000 employees has a "client first culture" and as a result had been growing about 8 percent a year for the past ten years.
It is not the first time that Airgas has been pursued as an acquisition target. Five years ago Air Products & Chemicals attempted a $5.9 billion takeover bid for Airgas, eventually offering about $70 a share. Airgas refused the offer and adopted a poison-pill shareholder rights plan which was upheld by a Delaware Court. Air Products withdrew its bid in February of 2011.
The decision to fight the buyout has paid off handsomely for Airgas shareholders.  Air Liquide is paying $143 a share, more than double what was offered by Air Products.
The acquisition news sent the price of Airgas soaring nearly 30 percent after the deal was announced.
The transaction represents a premium of more than 50 percent to Airgas' one month average share price, prior to the announcement of the transaction, and more than 20 percent over Airgas' 52-week high share price.
After the transaction, Airgas will become a wholly owned subsidiary of Air Liquide.
The acquisition will increase Air Liquide's Gas & Services sales by more than 30 percent. Upon completion of the acquisition, the combined company says it will be the industrial gas leader in North America, complementing number one positions in Europe, Africa/Middle east and Asia-Pacific. It will also be number one in Industrial Merchant and Large Industries, and co-number one in Electronics, worldwide