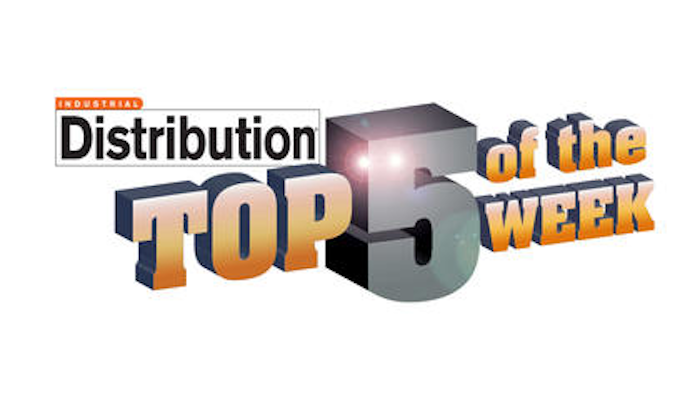 ​One of the most jam-packed news weeks in recent ID history featured a cyberattack at Grainger, Fastenal's quarterly earnings, and major acquisitions involving Anixter, HD Supply, Würth Group, and BlackHawk Industrial. A number of other acquisitions, executive changes, and expansions at other companies populated the week as well, but the cut has to made somewhere...
Here's this week's Top 5:
Grainger Reports Cyberattack: Grainger said Tuesday that on June 2, the company found it was the subject of a cyberattack in which the intruders accessed "limited information" on Grainger's network. The company said it responded immediately with its cybersecurity protocol, which involved working with cybersecurity experts to investigate the situation, adding enhanced security measures, and notifying law enforcement. Grainger said it has not experienced any service disruptions or outages due to the incident, and that there is no evidence the cyberattack had any impact to customers, suppliers, or employees.
Free eBook download: WMS versus ERP: Who Wins in the Warehouse?
​Fastenal's Profit, Hiring, Vending All Rise In Q2: No. 12 on ID's 2014 Big 50 List – reported its 2015 second quarter earnings and supplemental information on Tuesday, as well as those figures for the month of June. The numbers show it was a solid quarter for the company, as a Q2 profit of $140.4 million beat Wall Street expectations and was a 7.5 percent increase over Q2 2014. Total sales were just shy of $1 billion, coming in at $997.8 million and a 5 percent year-over-year increase. For the month of June, total sales of $349.0 million were an 8.6 percent year-over-year increase, and 11 percent increase over a disappointing May.
Würth Group Acquires Northern Safety & Industrial: Würth Group – No. 2 on the Big 50 – announced Tuesday that it has acquired Frankfort, NY-based Northern Safety and Industrial, one of the largest privately held safety companies in the U.S. Würth, which has a U.S. base in Indianapolis, said Northern Safety is now operating as an allied company within Wurth Industry of North America (WINA), one of the country's largest component distributors. It is the first acquisition for Würth in the safety market. Northern Safety currently services more than 100,000 customers, employing nearly 500 people across its 18 locations.
BlackHawk Industrial Acquires Colorado's Jarvis Supply: BlackHawk, No. 29 on the Big 50, announced last Friday that it has acquired Denver, CO-based Jarvis Supply. Financial terms were not disclosed. Jarvis Supply is a tooling distributor that sells drills, end mills, abrasives, and more to machine shops in Colorado. Broken Arrow, OK-based BlackHawk says the strategic acquisition will strengthen its footprint and sales presence in the Colorado market, expanding its sales and customer service talent into the mountain region. It is BlackHawk's 24th acquisition since making its first in October 2010.
​Anixter To Buy HD Supply's Power Unit For $825 Million: HD Supply and Anixter International, Nos. 4 and 6 on the Big 50, announced Wednesday an agreement for Anixter to acquire HD Supply's Power Solutions segment for a price of $825 million. Expected to close near the end of both company's fiscal third quarter, the transaction is the largest in Anixter history. According to Anixter, Atlanta-based Power Solutions distributes more than 200,000 utility, electrical, and industrial MRO products to approximately 13,000 customers including investor-owned utilities, public power utilities, electrical contractors, and industrial businesses. Power Solutions operates from approximately 130 branches in 30 U.S. states and four Canadian provinces and reported 2014 fiscal revenue of $1.9 billion.​