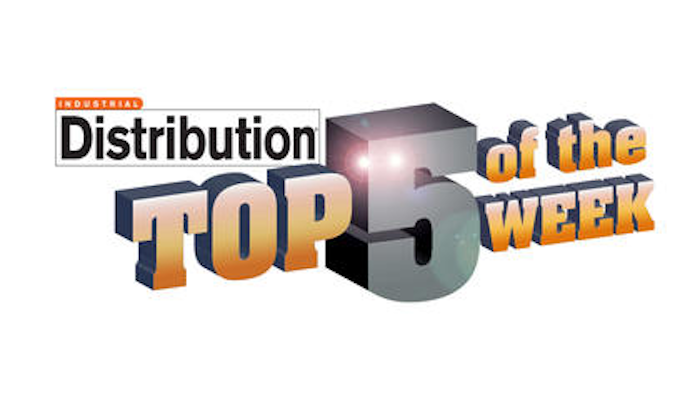 ​After several weeks of relatively quiet merger & acquisition activity in the industrial distribution market, things picked up this past week with two Big 50 companies making moves. Meanwhile, our Big 50 countdown video continues to be a top item.
Here's this week's Top 5:
Industrial Distribution's 2015 Big 50 Video Countdown: ID's Big 50 countdown video leads the Top 5 for a third straight week. With the online version set to publish next week as a fast resource for readers, the video features ID editors Anna Wells, Jack Keough, and myself offering commentary on, or by, each company on the list. ID's 2014 Big 50 List was also a top item this week again, as readers continue to check how companies moved up or down the list from last year.
​Fastenal August Sales Hold Steady, Personnel Dips: Fastenal – No. 12 on the Big 50 – posted August sales of $332 million, relatively unchanged from July's $334 million, and a 1.6 percent increase over last year. The company noted that currency fluctuations – primarily Canada – negatively affected sales by 1.4 percent. Daily sales to manufacturing customers grew by 1.0 percent over August 2014, and sales to Non-residential construction customers grew by 0.1 percent. Fastenal opened two new stores in August and didn't close any, bringing its total store count to 2,620. The company's total employee headcount at the end of August was 19,610, down 15 employees from July but up 7.7 percent year-over-year. It was the first monthly total headcount decrease this year. Selling personnel had a decrease of 67 to 12,611, its first monthly dip since the end of March. Year-over-year, selling personnel was up 5.3 percent. Distribution personnel ended the month at 2,287, down 45 from July. Year-over-year, distribution personnel was up 2.8 percent.
HD Supply Profit More Than Doubles In Q2: No. 4 on the Big 50, HD Supply reported its 2015 second quarter financial earnings on Wednesday for the period ended Aug. 2. The figures were highlighted by a profit of $102 million, more than double Q2 2014's profit of $49 million (+127 percent). This follows HD Supply's Q1 in which it had a net profit of $242 million, compared to Q4 2014's net loss of $93 million. The company reported Q2 2015 sales of $2.0 billion, a 6.7 percent increase over last year, and down from $2.2 billion in Q1. Q2's operating income of $222 million was a 36.2 percent yearly increase, and up from Q1's $167 million.
DXP Enterprises Expands Into California, Acquires Cortech Engineering: Houston-based DXP Enterprises – No. 20 on the Big 50 – announced Tuesday that it has completed the acquisition of Yorba Linda, California-based Cortech Engineering LLC, a distributor of pumps and related process equipment for Southern and Central, California and Southern Nevada. Terms were not disclosed. Founded in 1987, Cortech operates out of three locations: Yorba Linda, Bakersfield and National City, CA. According to DXP, Cortech is focused on serving customers in the municipal, water and waste-water, general industrial, chemical and marine markets with approximately 55 employees.
United Distribution Group Subsidiary Acquires Anchor Industrial Sales: Houston-based GHX Industrial, a subsidiary of The United Distribution Group, announced Tuesday that it has acquired the assets and operations of Kernersville, North Carolina based Anchor Industrial Sales Inc. UDG is No. 24 on the Big 50. Founded in 1993 by John Raczenski, Anchor operates from a 12,600 square foot facility. Anchor is a value-added distributor of gaskets and fluid sealing products sourced from manufacturing partners such as Flexitallic, Garlock, and SEPCO. Anchor's core customer base consists of chemical plants, contractors, pulp and paper, steel mills and OEMs. In addition, the company provides sheet, rubber, metal and heat exchanger gaskets as well as seals, packing material and expansion joints. Former owner, John Raczenski, who will remain with the company, stated that he and the entire Anchor team are very excited to join the GHX and UDG family of companies.
​Free Whitepaper - Pricing Technology: Myth vs. Reality