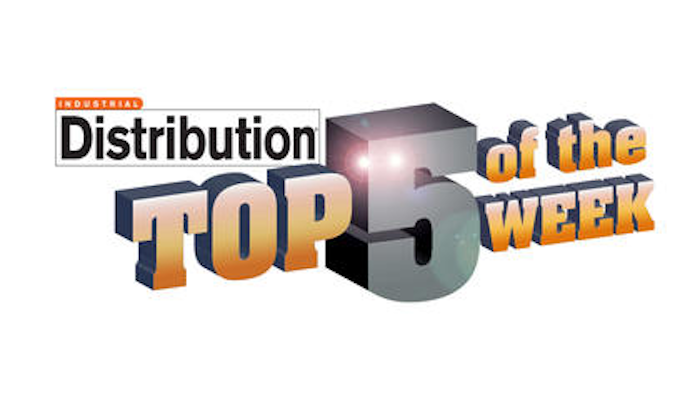 ​You'll notice that this week's Top 5 doesn't exactly have a cheery tone to it. Large MRO distributors have been reporting their latest quarterly financials over the last few weeks, with the vast majority posting flat or declining sales and profits, leading to a dreary atmosphere across the industrial distribution market.
Here's this week's Top 5
A Gloomy October In Industrial Distribution: The title says it all, as my latest blog provides a look at the big picture of the industrial distribution market and the challenges it's facing. I include comments from a handful of executives from ID Big 50 List companies used in their quarterly earnings releases, and I discuss how the negative effects of currency headwinds and low oil prices aren't expected to go away anytime soon.
BlackHawk Industrial Fills Southeast Gap, Acquires South Carolina's Specialty Tool: As one of the few positive news items this week, ever-active BlackHawk Industrial announced its 14th acquisition move since the fall of 2010, and fifth of 2015. Gaining Specialty Tool is big for BlackHawk geographically, giving it its first branch presence in the U.S. Southeast. Founded in 1978, Specialty Tool provides cutting tools and metalworking – specializing in carbide cutting tools – to a long-standing customer base in the manufacturing sector.
What Turns Industrial Distribution Millennials Off About A Company? (Video): What about your company is turning off millennials? It may not be what you think. Engaging or attracting millennials is an uphill battle for some companies. Could something at your company be poison that repels a potential recruit? As part of NAED's "Mind of Millennials video series, hear what these Millennials have to say.
​MSC Industrial Reports Flat Q4 Sales, Profit Slide As E-Commerce Continues Growth: Like many ID Big 50 companies, MSC on Tuesday posted flat Q4 sales and a 6.8 percent profit decline from last year, continuing from a 2.2 percent profit decline in Q3. MSC had sales growth in the U.S. Northeast and West, with flat sales in the Midwest and Southeast, while International & Other territories had a 16.6 percent decrease. Meanwhile, MSC's e-commerce sales in Q4 were 56.6 percent of the company's total sales, a new high.
Forecast - Oil Prices Could Remain Low Through Early 2020s: Oil-producing giant BP said Tuesday that it would continue to cut costs and curb development of new oil and gas reservoirs after reporting a third quarter profit of $46 million, a fraction of the $1.3 billion profit during the same quarter last year. The company's outlook expects prices of $60 per barrel through 2017 and officials said that they could remain below $70 per barrel into the early 2020s. Previously, prices were expected to approach $80 per barrel by 2021. In addition, BP officials said that overall job cuts for 2015 would amount to about 4,000 by the end of the year.