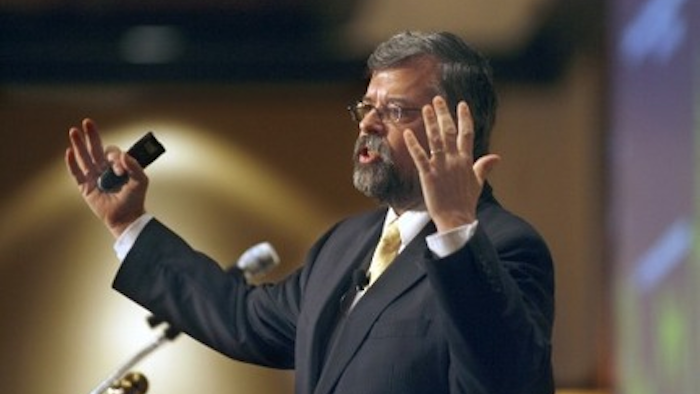 Alan Beaulieu, the noted economist with ITR Economics, disproved some myths about the economy and, more specifically, the manufacturing sector, during a keynote presentation at the recent Specialty Tools and Fasteners Distributors Association's Annual Convention and Trade Show.
Beaulieu said that although 75 percent of Americans believe we are in a recession, nothing could be further from the truth. He pointed out the country's GDP is growing rapidly, retail sales are increasing and inflation is under control. "All the signs are positive," he said adding all economic indicators show sustained growth for the next few years.   
He also mentioned that 51 percent of the people in the U.S. believe that China has replaced the U.S. as the manufacturing leader in the world. He described that belief as another myth. The U.S. is still the world leader, Beaulieu said, while China is second to the U.S. followed by Japan in third place.  
He outlined a series of positive indicators showing economic growth including corporate profits remaining strong and "real disposable income is at record levels."  
He said the economy could be possibly be "soft" for the next six months and a correction may take place but will not last for any length of time.
The U.S. economy has much going for it, Beaulieu said, noting that interest rates remain low, banks want to lend money, and unemployment is coming down, meaning it will become increasingly harder for distributors and those in the construction trades to find employees.
In addition, he said these employees would need training and employers must be willing to take the time to ensure these employee needs were met.
Beaulieu said that 10,000 people per day are retiring and that will lead to opportunities for younger employees to grow in the ranks. "You're also going to pay more for employees," he said and added that employers will also be paying more for efficiency gains in their business operations.  
He identified another myth as the disappearance of the middle class. "The middle class is not disappearing," Beaulieu declared adding that the upward mobility of workers in the U.S. is rising at the same rate that it has for the last 50 years.
He said that higher income people are usually well educated and doing better today when compared to other economic groups. He said that is partially due to the Fed keeping interest rates low that has led to boosts in the stock market, in which many high income workers have investments.   But, Beaulieu said, those high income workers are not preventing lower income employees from opportunities to advance their own careers. In fact, he said that various studies show that the increased wealth of the top high income workers has little impact on the abilities of other to climb the economic ladder.
The keys for lower income workers are better education, whether through college or vocational schools, or other types of job training.
Another good sign for the economy is energy costs continue to fall. "We've had the highest growth of energy production in 62 years," he said adding, however, that whenever energy costs go down, wages go up.
Beaulieu said that the commercial construction market is doing well as is office building construction. "There will be a strengthening of those markets in the future," he said noting that there will be a broad based increase in construction in U.S. housing as consumer demand rises.
"All will be up in 2015," he predicted.
While all indicators promise a solid economic outlook, there are also negative signs. Beaulieu said some type of calamitous world event could change the forecast and that interest rates will rise in 2015, probably by 50 basis points.  
"Mortgage rates will be going up in 2016 and for younger people that will be quite a shock," he said pointing out that many of them have never experienced such an increase in rates.
Beaulieu also said that the world economic growth is slowing down, health care costs are creating a drag on the U.S. economy and debt continues to rise.
Higher tax rates and government regulations are continuing to hurt business expansion, he said. Ohio, he noted, is seeing a tremendous amount of small businesses opening in Ohio because of lower taxes. Ohio is now second to only Texas, another low tax state, in attracting business and jobs.
Jack Keough is a contributing editor for Industrial Distribution. Contact him at John.keough@comcast.net.