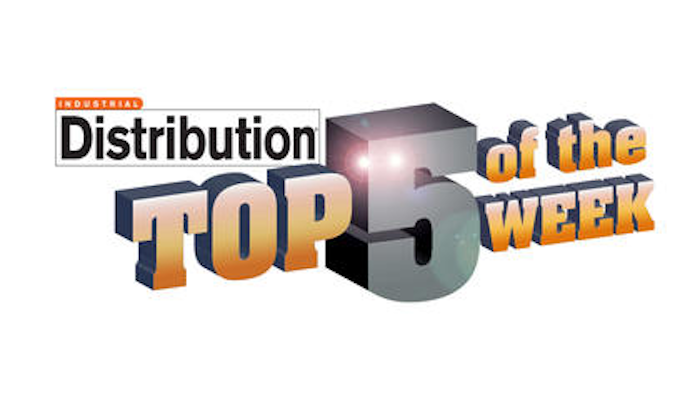 Only one acquisition made this week's Top 5, which was dominated by news that the West Coast Ports could have a complete shutdown just days from now if a labor deal isn't reached. Other top items included Amazon officially opening its first brick-and-mortar store, details of Fairmont Supply being bought, Anixter's negative fourth quarter, and Loctite's Super Bowl ad.
Here's this week's Top 5:
West Coast Port Shutdown Could Be Days Away: By far the biggest news of the week came from the seemingly never-ending labor strife with the West Coast Ports. Only this time, the situation has become much more fearful. For months, the impending threat of a port shutdown loomed, but on Wednesday, Pacific Maritime Association CEO James McKenna detailed how the PMA has given an "all-in" final offer to the International Longshore and Warehouse Union. He warned that if the dockworkers union doesn't accept the offer, a complete port shutdown could be just 5-10 days away. It's already been two days since then, and no deal has been agreed upon, so the clock is certainly ticking...
Amazon Opens First Physical Store In Indiana, Eyes RadioShack Stores: Remember the buzz back in October about Amazon opening its first brick-and-mortar store in Manhattan, presumably in time for holiday shopping? That never happened. Instead, the e-tailer's official first physical store is in West Lafayette, Indiana on the campus of Purdue University. Amazon@Purdue is the company's first staffed its first-ever staffed customer order pickup and drop-off location. The store aims to give Purdue students a new convenient option for receiving textbooks and other college essentials. That was combined with news that Amazon aims to acquire some physical stores of RadioShack, which is reportedly set to file for bankruptcy.
Fairmont Supply Buyer Named: News first broke on Monday that Consol Energy had sold its industrial supply subsidiary, Fairmont, but didn't disclose who it was sold to. That was made known a day later when several sources linked private equity firm Tenex Capital Management, through acquisition listings on its website and a profile on Bloomberg Business.
Anixter Profits Have Big Drop In Q4: Anixter, No. 6 on ID's 2014 Big 50 List, posted a 29 percent year-over-year quarterly profit loss in Q4, which included a 2.1 percent organic sales decrease. 
Loctite's Super Bowl Ad: Hit Or Miss? Adhesives manufacturer went all-out for a 30-second commercial in the Super Bowl, spending its entire 2015 budget for a spot worth $4.5 million. Was it worth it?