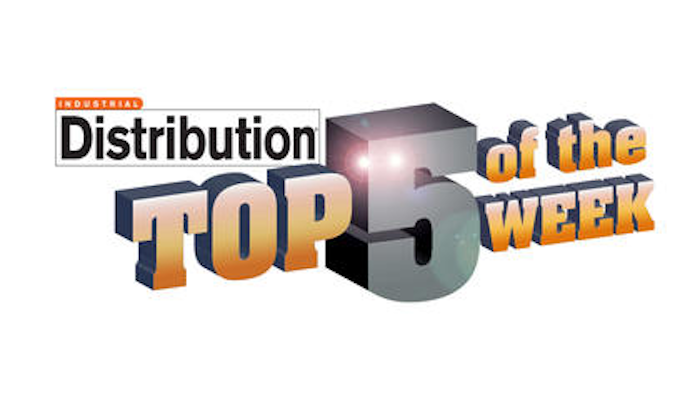 ID Big 50 List companies Anixter, Fastenal and Grainger dominated this week's Top 5, while news of shutdowns of the West Coast Ports continue to be hot items.
Here's this week's top 5:
Anixter Sells Fasteners Unit For $380 Million: In early January, reports surfaced that Anixter International put its fasteners division up for sale after unsuccessful attempts to sell the company as a whole. On Thursday, a buyer for the unit was named as Anixter announced that it has entered into a definitive agreement to sell the segment to American Industrial Partners (AIP) for $380 million in cash. The transaction is expected to close during the second quarter of 2015. AIP is an operationally oriented middle-market private equity firm that makes control investments in North American-based industrial businesses serving domestic and global markets. Reports in January expected the unit to sell for more than $500 million. Anixter says the transaction will give the company a sharper strategic focus on its core Enterprise Cabling & Security Solutions (ECS) and Electrical and Electronic Wire & Cable (W&C) segments and additional financial flexibility.
Fastenal Plans Manufacturing Site In Indianapolis: Shared in last Friday's newsletter, the Indianapolis Business Journal reported Feb. 4 that Fastenal plans to redevelop an abandoned industrial site in northwest Indianapolis into a manufacturing facility, for a cost of $4.2 million. The facility will allow Fastenal to retain 55 employees who are currently at its Indianapolis distribution center on Guion Road, and will create 97 jobs by 2020. The property has been vacant for 4 years. Fastenal has an Indianapolis distribution center on Guion Road, which employees about 200 people, and has nearly 90 locations throughout Indiana. Fastenal would like to use the building to manufacture custom orders, replacement parts and fasteners that are now being made in Thailand.
Report: Grainger Moving 130 U.S. Jobs To Panama Branch: According to information reported by the Janesville Gazette in Janesville, WI, Grainger plans to eliminate and move 130 jobs in supplier performance management and product sourcing from the United States to its branch in Panama City, Panama. The Gazette, citing a Grainger spokesman, said the company confirmed Monday that about 30 of the jobs are from its Janesville location in southern Wisconsin. The first wave of layoffs will take place no sooner than October 2015 and continue to April 2016, and that Grainger would provide job placement assistance to those laid off. A Grainger memo from executives to U.S. team members said the company deemed it could be more efficient through restructuring its supplier performance management and sourcing operations.
West Coast Ports Shut Down Through Holiday Weekend: The labor standoff between the Pacific Maritime Association and the International Longshore and Warehouse Union became very real last weekend when the PMA shut down operations Saturday and Sunday, and resumed Monday. But with no apparent progress in negotiations this week, the PMA announced Wednesday that its 29 ports along the West Coast will be shut down for five straight days, which began Thursday and go throughout Monday of this Presidents' Day weekend. The group said the weekend shutdown would prevent paying higher wages to workers during those days.
Motion Industries Expands In Alaska: An item made known Friday afternoon, Birmingham, AL-based Motion Industries, No. 9 on Industrial Distribution's 2014 Big 50 List, announced on Friday the purchase of Oil & Gas Supply, located in Anchorage, Alaska. The transaction was finalized on Feb. 2. Oil & Gas Supply has two Alaska locations - Anchorage and Kenai - both which provide industrial and hydraulic fluid power hoses, fitting and repair services, as well as tank truck parts to the oil and gas industry. The purchase of Oil & Gas Supply expands Motion Industries' Northwest footprint, serving industries including mining, construction, and fishing, in addition to oil and gas.