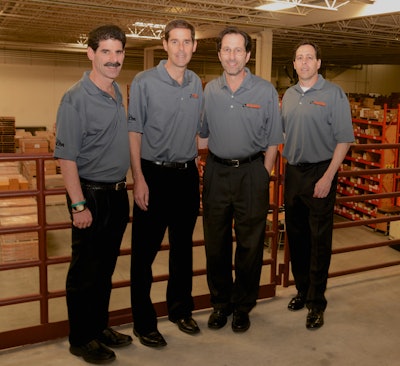 Spungen Family Returns to the Helm, Bringing a Renewed Focus, Energy and Experience to Industrial Chain Businesses
When Glenn Spungen arrived at PEER Chain Headquarters in Waukegan, IL on October 1, it was a homecoming of sorts. As the new president of the 40+ year-old industrial chain company, he stepped into a role previously filled by his grandfather and father before him. While one might expect the pressure to succeed in revitalizing the third-generation family business to be quite intense, Glenn faces the challenge with enthusiasm, excitement, vigorous determination and a team of fellow Spungens—seasoned, successful executives in their own right—ready to usher in a new era at PEER.
A Legacy of Industry Excellence and Family Focus
The Spungen family's legacy in industrial manufacturing and distribution dates back to the early 1940s when Nate Spungen started in the power transmission field. In 1960 the two sons, Laurence and Kenneth Spungen founded PEER Bearing, supplying industrial-grade ball bearings to agricultural equipment, automotive, conveyor and electric motor manufacturers, like John Deere, Chrysler and other major worldwide brands. Over the next six decades, the Spungen family grew PEER from a mom and pop shop into a thriving $150 million enterprise that attracted the attention of Swiss firm SKF.
In 2008, the company and family made national headlines when the Spungens sold the PEER Bearing unit to SKF, sharing some $6.6 million in proceeds from the sale with employees, handing out five-figure bonuses to 230 USA employees. The bonus checks couldn't have come at a more fortuitous time. Just as the country's economic meltdown took hold and "corporate greed" took the blame for plunging the nation into a protracted recession, PEER was the antithesis, sharing its wealth with the people who helped make the company a success all the way down to the shop floor.
Employees not only had the comfort of a financial cushion, but also the ongoing job security and family atmosphere they'd enjoyed under the Spungen family's leadership. In fact, Glenn Spungen himself continued on with PEER Bearing, where he has spent the past 27 years.
Now, Glenn will join his brother Danny and first cousins Charles and Jeffrey (also brothers) in bringing that same energy and passion for success over to PEER Chain, determined to bring a renewed vigor to the company that had traditionally played second-fiddle to the bearing business. Over the years, each Spungen generation has taken the company in radically new directions in an evolutionary process that has kept the PEER brand at the top of the game for nearly three-quarters of a century. This new generation aims to continue that tradition, infusing a breath of fresh air to the company that promises to challenge the status quo, while maintaining the family-focused culture.
"Our fathers started PEER Chain in the 1960s as a sister-company to PEER Bearing," Glenn said. "PEER Chain has always enjoyed an excellent reputation in the industry with a focus on solving tough engineering challenges with innovative products, exceptional quality and competitive pricing. But, for many years, PEER Chain rode the coat tails of the bearing business. That will change and reinvigorate the chain business by taking advantage of the exceptional experience of our team to address new and emerging market opportunities."
Diverse Skillsets to Address New Market Opportunities
A lot has changed in 40+ years, even in the industrial chain business. Glenn says that, while the competition has narrowed significantly, "it's tougher for our distributors these days if they do not add tremendous value. In many industries, the role of the middle-man is being cut out, and distributors must provide added value by streamlining the supply chain and providing expertise to solve problems. We will be there for our partners. "
With this in mind, and an eye toward growth and expansion amid this shifting demand, the Spungen men each bring a wealth of experience and diversity to the table. While Glenn and Danny have spent the last 25-30 years in the bearing business, each has honed an individualized skillset. Glenn focused on sales and operations, building a strong network of industry relationships and devising solutions to meet specialized needs, while Danny has spearheaded the marketing and sales functions, implementing contemporary marketing strategies to communicate and deliver on the PEER brand promise of quality, innovation and competitive pricing.
Meanwhile, Jeffrey and Charles have spent the last decade working in the high-tech manufacturing firm PEER Inc. serving the power transmission industry. Jeffrey's strong background in both IT and finance complements Charles' engineering and operational expertise. As the Spungen quartet reassembles back to their collective roots at PEER Chain, this diverse background, breadth of touch points in a wide range of markets and track record for success converge to open new doors of opportunity.
"The team that made PEER Bearing and PEER Inc. winning companies is bringing that experience and expertise to PEER Chain," Charles said. Glenn adds that, "while each of us comes to the table with a different perspective, a diversity of skills and a wide range of industry background, our collective experience spans more than a century in the industrial manufacturing and distribution business. It's a new day at PEER Chain. We're coming full circle with a focus on new technology, engineered solutions and best business practices to restore the culture of innovation that made the company so successful. We couldn't be more excited about the future of PEER Chain."
The Spungen's are confident the $25 million company is poised for growth. The team is eyeing prime opportunities in the OEM industries and plans to expand the product line into related products for the agricultural, oil-field, automation, conveyor, food & beverage processing, lumber, material handling and waste treatment sectors, to bring added value to its customer base.
Alongside a renewed focus on building industry partnerships, the Spungens are also modernizing business operations to improve process efficiency, implementing contemporary best business practices, warehouse management systems and state-of-the-art customer relationship management technologies, as well as modernizing the company's website, internal processes and other streamlining measures.
Marrying Hi-Tech and Hands-on with a Family Oriented Approach
Even as the Spungens look to inject modern technology into PEER's processing systems, the team intends to maintain the same roll-up-your-sleeves, hands-on family management style they believe has always been the secret to PEER's success. The Spungens say working together as a family with open lines of communication speeds up that process and fosters creativity.
The Spungen's won't be handing out another five-digit bonus in the future because they are committed to reaching the 4th generation with ten children entering the prime of their educational years. By focusing their collective experience and diverse expertise back into the family business, the Spungens plan to make growing PEER Chain the top priority.
Laurence is excited and more than ready to allow the next generation to take on their new roles. Laurence concludes, "I am grateful that I had the opportunity to share some of the rewards and accomplishments with the many people who contributed to our company's success."
-
Kara Gray is a freelance writer and strategic messaging consultant. Her 15-year career has included work with leading national public relations firms, NASA, the National Technology Transfer Center, National Institute of Justice, United Brotherhood of Carpenters and Joiners of America and numerous startups, entrepreneurs and new ventures from across the country and around the globe. She earned a Bachelor of Arts in Communications – Public Relations from Bethany College and is a member of the Editorial Freelancers Association.