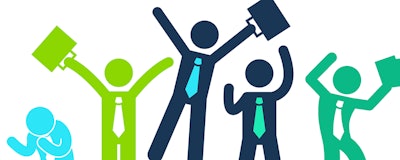 Any manufacturer that offers a wide variety of products generally has a service network that people rely on. Whether those customers are industrial tradespeople on a jobsite or a home shop, you have sales goals to reach. A manufacturer's learning and development strategy and tactics may be one of its best weapons if deployed widely. According to e-learning expert Douglas Gastich, a savvy learning and development strategy should help educate your distributors and counter associates about an array of products and accessories, as well as how each complements the other, so they could then sell a package to build out a factory or job shop.
Any manufacturer's education initiatives should exist to sell more and create better brand engagement. If a fab shop owner asks for a competitor's lathe, we certainly want our distributors to offer our value proposition on why our products are better. My employer's educational challenge, which is likely similar to many manufacturers, is threefold:
Instruct tens of thousands of people (including those who belong to cooperatives and buying groups) who are at the counters recommending products, offering advice and selling to end users who range from fabricators to job shops.
Be the sole supplier for these shops, blocking out the competition.
Instruct distributors about our products regardless of whether they are at work, home or on the road.
Until this year, our online training was not as robust as our on-site, hands-on training facility. So we armed our direct sales force with product know-how and sent them into the field to share news and training with distributors and sales representatives. Along with the sales team's outreach, we used a learning management system (LMS) to upload a minimal amount of product videos for distributors to tap into à la carte.
We were barely using what the LMS could deliver in terms of content and analysis. And buying groups and their members were asking for more content because they wanted to sell more products.
To ramp up the educational effort, we turned to LMS consultants at the beginning of 2018 to launch our online university. With a learning and development strategy in place, we assigned an in-house media coordinator to create SCORM-conformant courses developed with input from product managers. Each course met the needs of people on the front lines.
By the end of the first quarter of 2018, we had created and uploaded 53 courses into the online university. Our distributors can access training materials including videos, graphics, quizzes and presentations tailored to our four major brands, some with six to 10 subcategories. As we launch new products (either the extension of a line of tools or something for a new market), our LMS alerts learners to new courses that fit their needs.
An e-learning platform really helps us connect our buying groups, distributors and sales reps with our brands. And distributors are learning more than ever about us. There's proof beyond our experience that delivering manufacturing content via an e-learning platform works. Earlier this year, Sphere 1 Inc., a purchasing coop for distributors of tools, fasteners and concrete accessories, analyzed its members' purchasing habits. According to Sphere 1, members who took manufacturers' online product training purchased 14 percent more goods from 2016 to 2017, which was the period of time covered by the survey.
We, too, see our learning translating into distributors offering their customers a wider breadth of solutions than they would have known about before the launch of our online university. For example, in the past, a distributor might make a one-off sale of one of our brand-name bench grinders, but fail to mention our band saws because they were unaware of the product. This, in turn, meant the distributor would recommend a competing brand of saw. Now, if a shop owner is looking for metalworking equipment, a distributor sales rep will know about our brands and subcategories and recommend a shop-wide solution.
Ultimately, we want to outfit a complete shop. That's where having the full-line category content helps the distributor know how to cross-sell within any one of our brands; that's a valuable thing to be able to do in a saturated market.
Within the first few months of launching our virtual university, learners have completed 2,200 courses, which far surpassed prior year metrics. The system also provides the analytical tools to correlate product training and sales, which we are linking. We have a combination of direct sales representatives and agencies who call on distributors. With our hybrid sales team and online university, we can reach distributors and buying groups with more product know-how than ever before.
Our virtual university is a fabric of our culture and plays a critical part of a collective effort to hit our company goals for sales and brand-building. That's a strategy that other manufacturers can employ to boost learning and sales.
Matt Dedeluk is senior channel marketing manager for JPW Industries.