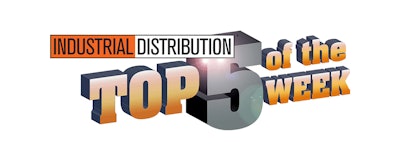 Per my farewell blog posted earlier Friday morning, this is the last Top 5 I get to bring you. As expected, our 2018 Big 50 Countdown videos dominated traffic on ID this week, while the full, detailed list will post atop our site and newsletter Wednesday morning. College football is back, and colder weather will be here before you know it.
Here's this week's Top 5
ID's 2018 Big 50 Countdown, Part 1 (50-31): Covering the bottom 20 companies on our list, they span annual revenues from $135 million to $330 million, starting with Shively Bros. and ending with Descours et Cabaud.
ID's 2018 Big 50 Countdown, Part 2 (30-11): These companies' annual revenues cover $331 million to $2.65 billion, starting with SBP Holdings and ending with NOW Inc.
ID's 2018 Big 50 Countdown, Part 3 (10-1): The biggest of the Big 50, these companies' annual revenue cover $2.88 billion and end with $10.42 billion, starting with MSC Industrial Supply and ending with Grainger as the king in industrial distribution.
How Service Businesses Can Adapt Traditional Supply Chain Capabilities to Improve Performance: You don't have to be a market analyst to see that many service businesses fail regularly and spectacularly when it comes to keeping customer commitments. Here, PwC's Robert Giaccobe examines why these failures happen and how to optimizing supply chain operations can be the remedy.
US and Mexico Tentatively Set to Replace NAFTA With New Deal: Snubbing Canada, the Trump administration reached a preliminary deal Monday with Mexico to replace the North American Free Trade Agreement — a move that raised legal questions and threatened to disrupt the operations of companies that do business across the three-country trade bloc.