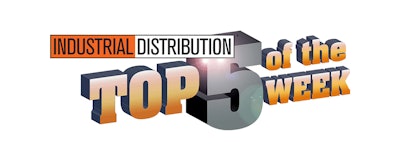 News of the sudden passing of Motion Industries president & CEO Tim Breen was a shock to the entire MRO marketplace this week, while Part 1 of ID's 2018 Big 50 List Video Countdown was a top item as expected.
Here's this week's Top 5
Motion Industries Announces Sudden Passing of President & CEO Tim Breen: The industrial products market has lost an icon, as Motion Industries on Monday announced the sudden passing of its president and CEO, Tim Breen.
ID's 2018 Big 50 Countdown, Part 1 (50-31): Presented by Editor Mike Hockett, see the first part of Industrial Distribution's 2018 Big 50 List video countdown, covering companies from No. 50 through 31 of North America's top distributors of industrial products.
Lowe's Appoints New CFO as Exec. Shakeup Continues; Will Exit Orchard Supply Hardware: The corporate shakeup at Lowe's continues, as the retailer announced Tuesday that David Denton has been appointed as company's new executive vice president and chief financial officer — the latest in a recent string of key executive changes — and announced it will exit its Orchard Supply Hardware business.
China, Tariffs, and Trade Policy: What's Going On?: If changes in trade policy and tariff news have been giving you and your team whiplash lately, you're not alone. A lot has happened recently on the global stage, and there is a lot to sift through. Here, C.H. Robinson's Ben Bidwell discusses some top concerns and how to manage potential supply chain disruptions.
Staples Still Pursuing Essendant, but SP Richards Deal Still on Track: Staples isn't giving up on its hopes to acquire workplace essentials distributor Essendant, reaching out to the company via a letter filed to the US Securities and Exchange Commission that illustrates Staples' claim that its acquisition offer is superior to Genuine Parts Company's offer for a merger with its subsidiary S.P. Richards. Get those details here, along with Essendant's response.